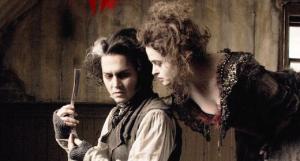 It's been almost six years since Johnny Depp's last London slasher flick, From Hell, so it's understandable that his latest project, Sweeny Todd: The Demon Barber of Fleet Street, left the bohemian-chic thespian a little harried by the whole experience. In Mr. Depp's first reunion with longtime collaborator Tim Burton since 2005's Corpse Bride, the 44-year-old actor will co-star alongside Alan Rickman, Helena Bonham Carter and Sacha Baron Cohen. Very nice!
"Having worked with sharp objects before [in Edward Scissorhands], everything was fine until I had to shave someone," Mr. Depp told Scotland's Daily Record. "The shaving cream made me really nervous. It was the most uncomfortable moment of my life [shaving Mr. Rickman]. Poor Alan. I've never really experienced that full on thing. This is a full beard for me – this is a lumberjack thing for me. But I can definitely appreciate it because when you get into the chair with a stranger and they lather your face up with sharp instruments around your throat…it's frightening."
And while Mr. Depp is no stranger to a little music making—he has worked with Oasis and Tom Petty in the past—he said he was spooked to the max by the prospect of crooning for the camera. "I think I was probably more frightened than anyone. I've never tried karaoke. It scares the hell out of me. I've never been that drunk—and I've been drunk," he told the paper at a recent press junket. "Tim said he didn't know if I could sing and, likewise, I didn't know if I could sing. I did these demos in my friend's garage studio because I didn't know if I'd be able to hit a note, to be honest, I really didn't. I did that and sent it to Tim and he said we're going to be okay. And then I became a bit more confident," added the seemingly unflappable star.
All funny on-set anecdotes aside, Mr. Depp still knows the importance of actually publicizing his projects at press junkets. Whetting the appetites of critics and fans starving for a little more Johnny, he settled in and got right down to business, saying, "Someone is probably weeping after watching my performance."
To see pictures of the actor from the Sweeny Todd press junket, click here.