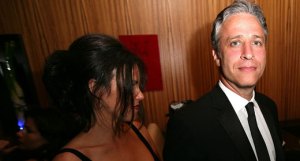 On the night of Nov. 16, Jon Stewart gave a rare stand-up performance at the grand opening of the Planet Hollywood Resort & Casino, in Las Vegas. His act was introduced by Planet Hollywood founder Sylvester Stallone ("I would like to introduce the man who taught me how to do one armed pushups,") and was followed by a blues concert by another Planet Hollywood founder Bruce Willis. ("I got to get out that window, I'm too young to die," he sang.)
In between the two action stars, Stewart, dressed casually and free to curse, observed that the junk-cluttered walls of the theater, which is usually the site of the all-things-bangable percussion spectacle "Stomp," looked like they were made out of a magnet.
He riffed on O.J. Simpson's arrest for armed robbery, and joked that since O.J. got off for murder last time, he was probably now thinking to himself, "I should have killed those motherfuckers."
He empathized with Barack Obama for having a politically problematic name, and said it must be like being a Republican named "Gaydolf Shitler" running for office in the 1940s. And he did a bit about Larry Craig and other Republicans' penchant for homosexual acts. (A heckler screamed something about how the Democratic representative Barney Frank was also gay; Stewart responded that Frank never sought to publicly condemn or legislate against himself.)
Stewart received only half-hearted applause from the somewhat sparse audience. In fact, he didn't seem to like the crowd – peppered with sometime celebrities like Tom Arnold, Rex Lee (Lloyd from "Entourage") and Roger Clemens.
Several times, Stewart checked the time on his phone and informed the audience of agents, producers, wrinkle-less 60-year-olds how many more minutes they had to endure.
After the show, many of the guests walked down a long, white carpeted and white curtained corridor, on the sides of which buxom, welcoming and pretty much clothes-less women stood beaming like lampposts on the sides of the road.
At the corridor's end, middle-aged men and youngish women packed a ballroom where they nibbled at Italian prosciutto, cheese and grilled vegetables. They hit on each other and sipped from the beer bottles and martini glasses supplied by several open bars.
The crowd seemed excited about the opening of the casino, which used to be called the Aladdin, and had a Middle Eastern motif with decorations like plastic, jewel-encrusted pillars. After the Sept. 11, 2001, terrorist attacks, plastic, jewel-encrusted pillars and other vaguely Arabic ornaments became unpopular, and the process of transitioning to become Planet Hollywood began as early as 2004. In April, the official name change took place. Portraits of celebrities, including one of Sherman Hemsley, now hang on the walls.
Also, Bruce Willis' band is now guaranteed a venue.
After a short wait, Willis and his blues band walked out on stage. He wore a Hawaiian shirt that said "Caribbean Cowboy." On his bald head he wore a black bowler hat with a red feather. He sang songs with non sequitur-style lyrics like "She got a bad old man," and "Welcome to the beach!" Between songs he engaged in patter with the audience, often taking a few seconds to talk himself out of his gravelly, hard luck blues voice. To the audience he said, "Let me say hello to my Hollywood people," "If it was just me I'd be up here signing autographs," and somewhat inexplicably "neck and neck you mother… ha ha."
He then invited Edgar Winter on stage. ("Edgar Winter, y'all.")
Winter, who has long white hair and white eyelashes and who dresses eccentrically, sang. Willis played the tambourine. Some members of the audience filtered out, walking back down the white tunnel and emerging amid the jangling slots of the newly minted Planet Hollywood Casino floor.