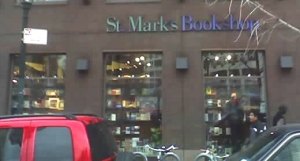 With No Country For Old Men's cinematic debut it was perhaps inevitable that bookstores would see a surge of popular interest in the already-popular work of Cormac McCarthy. And in the East Village, where the reading of novels is hardly the greatest danger posed to young men's virility, Cormac's doing double-time. Both the second and third slots on the bestseller list compiled at St. Mark's Bookshop (scroll down to view the complete list) at Third Avenue and Ninth Street are taken up by the author, with The Road and No Country taking positions 2 and 3, respectively.
Also boying up the list is a book of dirty pictures by family-friendly cartoonists like Rube Goldberg, Dr. Seuss and Charles Schulz. Clean Cartoonists' Dirty Drawings is about what happens when a pen that's used to scribbling out cute little domestic scenes and boy-scout-ready action-adventure sequences gets a little … stiff. R. Crumb wrote the introduction!
But not all cartoons are for boys, as The New Yorker's Maira Kalman demonstrates with her 7th Place entry on the sleek and thinky little bookstore's list. Principles of Uncertainty is probably popular enough everywhere; is it just us that find it odd that such a young-seeming bookstore would sell so much of it?
Here's a theory we'll never be able to test out: Is it possible that there is never a moment where a copy of a book by Haruki Murakami is not to be found in at least one coffee shop in a college neighborhood? That is, after all, what the East Village has become. In this case, Mr. Murakami's fun and challenging but usually forgettable style is lent to Blind Willow, Sleeping Woman, No. 9 at St. Mark's.
Speaking of college neighborhoods: Are the kids still reading 90s pop-theory mavens like Judith Butler and Gayatri Chakravorty Spivak? It might account for the oddly-high 4th place finish of Who Sings the Nation-State? Language, Politics and Belonging, billed as a "conversation" between the two about how "what is contained in a state has become ever more plural while the boundaries of a state have become ever more fluid."
Logocentrism, however, has a champion at the top of the list in Oliver Sacks' well-reviewed Musicophilia. Michiko Kakutani thought it needed a better edit, but also that it was very sweet!
We dont' know anything about The Gathering, Anne Enright's saga of an Irish family, but then, we're Irish ourselves and kind of thought the Irish saga was exterminated by Flann O'Brien. We won't pick it up–but by all means, you should! And frankly, our pick from the store's bestseller list would likely be No. 10: Transit Maps of the World. It seems like the kind of book you want to install under your parents' coffee table so you have something to look at over the holidays while eating your cheese and crackers.