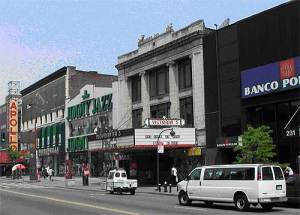 The fight for Harlem's Victoria Theater began back in December of 2005, when 11 developers submitted bids to convert the shuttered vaudeville house into a mixed-use cultural building. The board of the Harlem Community Development Corporation, which was chaired at the time by Democratic Assemblyman Keith Wright, narrowed the choices down to two firms.
But, according to The New York Times, the Pataki administration resisted, favoring another developer, Apollo Real Estate Advisers, which offered more money for the development rights and also happened to have strong ties to the Republican governor.
Mr. Wright lost his chairmanship a little while later—because of the dispute, according to an aide­­–but he ended up getting his way today. The Empire State Development Corporation, now controlled by appointees of the Democratic Governor Eliot Spitzer, announced that one of the two firms selected by the Harlem Community Development Corporation, Danforth Development Partners LLC, had won the conditional right to redevelop the 1917 theater on 125th Street into a complex containing a hotel, 91 condominiums, and space for four arts organizations: the Classical Theatre of Harlem, the Harlem Arts Alliance, the Jazz Museum of Harlem, and the Apollo Theater Foundation. (The complex will, at 317,570 square feet, require a pretty large tower on top of the current building.)
The total development will cost $145 million, with about $25 million going to the state, according to Danforth's president M. Steven C. Williams, a third-generation Harlem resident who had been a partner in the redevelopment of 55 West 125th Street, the office tower that now houses former President Bill Clinton's office.
"There were a number of iterations, reviews, and questions. I do think there was also an impetus that somebody from the local community would be the developer because they would be more likely to keep the legacy of the community in making sure that these indigenous cultural entities had the chance to be incubated here," Mr. Williams said. "I'm very excited. I'm looking forward to it. I'm looking forward to what the project is going to do for 125th Street."