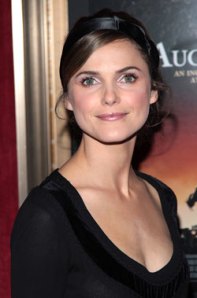 On Sunday, Nov. 11, the actress and beatific new mother Keri Russell, whose career we feel has never quite recovered from the great Felicity hair-chopping disaster of 1999, was enjoying a glass of red wine at a party after the premiere of her new film, August Rush, at the catering space at 583 Park.
"Do you want a drink?" she asked her publicist. "Are you sure? I feel bad being the only one!" Bottoms up, Mommy!
The film, fanciful fare about a musical prodidgy, is Mrs. Russell's second consecutive collaboration with sulky heartthrob Jonathan Rhys Meyers, the first being Mission Impossible III. (He attended the soiree with a comely anonymous brunette). "Last time we worked together my head was exploding and he was flying a helicopter," Ms. Russell said. "And then we were, um, lovers under a moon on a rooftop in New York, so we've been through it all."
How was the smooching?
"We were like, 'Oh, God this is awkward, this is kind of like kissing your brother!'" said Ms. Russell, who is married to contractor Shane Deary. But is Mr. Rhys Meyers a good kisser? "Why, yes, he is!"
Behind Ms. Russell, a man was moving a giant blow-up of the cover of this month's Self magazine, on which she is featured. "This is so scary!" said the actress, looking at the image.
So how does she keep fit, anyway?
"I really do a lot of walking in Brooklyn," Ms. Russell said. "I love Pilates when I have time but I don't always have a baby sitter." Also! "I definitely think breast-feeding helps because it burns so many calories, so it's good for you and it's good for them." No Maggie Gyllenhaal-esque public nipple shots yet, alas.
Why should we go see her new flick? "I am so in the mood for big romantic movies, and this totally fits the bill," said the actress. "I don't know, maybe it's because we want to think things will hopefully get better in the world." She then excused herself to dance with her husband.