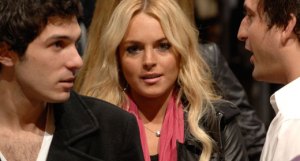 It looks like Lindsay Lohan has started to use the public's hunger for pictures of her to the benefit of her wallet—something that has reportedly been a little thin of late. According to MSNBC, Ms. Lohan, 21, contacted a few media outlets to see if they wanted to fork over some serious cash in exchange for photos of her, mother Dina, little sis Ali, brothers and boyfriend Riley Giles munching, presumably behind closed doors, on Thanksgiving dinner.
"She thinks she's a huge star. She thinks everyone is dying to read about her, but she's lost her fan base. Her decisions are being driven by cash, not repairing her image," an unnamed source, who claimed to be among those approached by the star, said. Ms. Lohan, who is preparing to record her third album, apparently started with a six-figure asking price before it was whittled to $20,000.
No photos have yet been sold, and the actress-singer's rep denies the photographic yard sale ever happened. The day after Thanksgiving, however, Ms. Lohan was followed by her usual pack of paparazzi to Armani Exchange and Intermix boutiques in Manhattan. That trip, said another source close to the celebrity shopaholic, was arranged between Ms. Lohan and said stores. They added, "Seems like everything Lindsay does is to make money." Well, not everything.