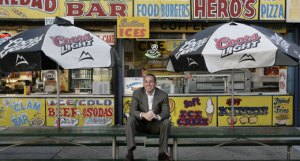 The mayor did a good job last week of making his Coney Island plan look like a done deal, but it is far from over. The local City Council member, for one, is casting doubt on the idea of acquiring the land in the core amusement area and turning it into city-owned parkland the way the Bloomberg administration is proposing.
"I believe there should be hotels. I believe there should be an amusement district," Domenic M. Recchia, Jr. told The Observer. "But in my view, the result should be different than the one [Deputy Mayor Dan Doctoroff] proposes. I believe that we should recreate an amusement district and work with the present landowners and not map it parkland. You still have other landowners besides Thor Equities that were there for 50 years when nobody else was, and they won't be able to capitalize on the plan if you map it parkland."
Thor Equities, founded by developer Joe Sitt, has bought up about 80 percent of the area in the past few years and has proposed turning it into a modern amusement park with hotels, time shares and condominiums. He is not a particularly popular player to root for, but there are a few other landowners who would be affected as well.
The mayor's press release included an enthusiastic quote from Mr. Recchia suggesting his endorsement, but Mr. Recchia said that the comment applied to the idea of rejuvenating Coney Island in general. He said that he and City Council Speaker Christine Quinn are "in negotiations" with the mayor's office over mapping the area as parkland and some other issues.
Andrew Doba, a spokesman for Ms. Quinn, said that the speaker had not taken a position on the plan yet.
"The speaker is looking forward to reviewing all aspects of the mayor's plan as it moves through the committee process," he said.
The state Legislature will also have to approve the proposed parkland swap for the mayor's plan to move forward. State Assemblyman Alec Brook-Krasny did not return phone calls, although he also contributed an enthusiastic comment in the press announcement. State Senator Diane Savino, a Democrat, was cautious, although she, as a member of the minority party will have less influence.
"I'm not quite there yet," she told The Observer. "There ought to be an equitable swap of property. We are all willing to move this process forward. It's just a matter of making all the parties to the point where they are satisfied."