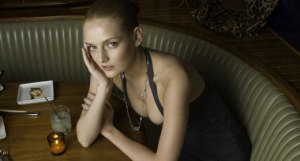 Lydia Hearst leads a ridiculous life.
She is a successful model—despite being 5 feet 7 inches short. She often has her pick of runway shows and photo shoots around the world. In the past two months, modeling has taken her to Paris, London, Florence and Los Angeles. She designs handbags for Puma, and is putting finishing touches on a line of Puma fitness wear. She sometimes stays up all night looking at color swatches. And she writes a column for the New York Post's Page Six Magazine, called "The Hearst Chronicles." She writes it sitting at her desk, which belonged to her great-grandfather, William Randolph Hearst.
"I try to sleep at least five hours," she chirped in her crisp New England accent.
At the tender age of 23, she tries not to let her family's great wealth and illustrious history cloud her judgment.
"I tell her, 'Listen, you're a socialite, it's a fair enough description, you come by it honestly,'" said her mom, Patricia Hearst-Shaw. "For 'heiress' we usually substitute 'airhead' around here. Just on general principle, lest anyone get too full of themselves."
"I am definitely not a socialite," Ms. Hearst explained over dinner recently in SoHo. She looks you in the eye when she speaks. She has big blue eyes and excellent posture. A natural blonde, her dyed red hair was pulled back tight against her forehead. A miniscule black cocktail dress clung tightly to her body. She said she has "very fortunate" measurements: 32-inch bust, 21-inch waist and 34-inch hips. She wears a size six shoe and has a bear her dad shot as a rug in her apartment.
"I am definitely not a preppy New York girl," she said. "The last thing you will ever see me wearing is a polo shirt—I'm not a pearl-necklace-wearing little sorority girl."
She insisted she can't remember the last time she went to a country club and said she's not interested in donning a gown and showing up at "some celebrity party that is pretending to help poor underprivileged children. I'd much rather put on my shorts and sneakers and go to the country and help the underprivileged children."
And if you have to ask, she's no Paris Hilton. "I always keep my legs together and wear underwear," she said. "I'm a lot more conservative than the Hollywood counterparts are. I'm an East Coast girl."
"Everything I do, this is not a hobby for me," she said. Indeed she considers even fitness as part of her job, and spends between two and four hours a day with her personal trainer when in New York. She recently purchased a two-bedroom condo for $1.49 million right across the street from the Hearst building on West 57th Street. She's almost done decorating. "It's very San Simeon," she said. (Her older sister, Gillian, and her new husband also recently bought in the building.)
"I am all business, I am all work," Ms. Hearst continued. "You have to take it seriously—this is a world that will eat you up and spit you out faster than you know what hit you, and you need to stay ahead of the game and you need to understand that it's not all about the parties."
She gets some of her chutzpah from her mother, a beauty who was famously kidnapped in 1974 at age 19 by the Symbionese Liberation Army. She was convicted of helping her captors rob a bank and spent 22 months in prison before having her sentence commuted by Jimmy Carter.
Given that many socialites dabble in fashion and journalism these days—though few can legitimately put "model" on their résumé—Ms. Hearst is understandably eager to distinguish herself from the herd.
At least once a month, she gets up at 6:30 a.m. and delivers food for the charity God's Love We Deliver. She recently helped found a charity called "Designers for Darfur."
She hates champagne—she said she only drinks "the champagne of beers," Miller Lite, and tequila on the rocks. She's equally particular about food: strictly meat, fish, pasta and potatoes. She doesn't eat vegetables. Her favorite bar is Milano's, a dive on Houston Street. She said she doesn't have a boyfriend. "I do believe that everyone deserves great love," she said. "I just turned 23, I'm not necessarily planning the rest of my life at the moment. My idea about being in a relationship is like it's a whole other form of creation."
What sort of guys does she fall for?