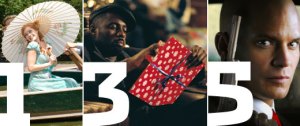 While the rest of the country gravitated toward the family fare over the Thanksgiving weekend, New York's tastes were a bit more of a mixed bag. Sure, Enchanted (No. 1) topped our box office charts—just like it did the nation's—with a strong per screen average of $33,000. But Bee Movie (No. 8), ranked fifth nationally, dropped 4 spots, while Fred Claus, ranked sixth, went poof!
Despite the fact that five movies opened wide on November 23rd, No Country For Old Men (No. 2) actually moved up a spot by expanding into two more theaters for a grand total of nine. The Coen brothers spent Thursday giving thanks for Javier Bardem.
This Christmas (No. 3) did surprisingly well, both here and at large. Director Preston A. Whitmore II, who gave us last year's universally panned Crossover, rebounds nicely with this family drama tailored to an African-American audience, but with crossover—bet he never thought that word would have a positive connotation again—appeal. The film averaged over $27,000 on 9 screens. Move over Tyler Perry!
Beowulf (No. 4), in its second week, outmuscled Hitman (No. 5), in its first, while American Gangster (No. 6), with a near $20,000 average in its fourth week, continued its immensely successful run.
There was little redemption for Frank Darabont this weekend, as his Mist, based on the Stephen King novella, did decent business, averaging close to $14,000 on 9 theaters and grossing $13 million nationally. (Bob Weinstein called it a "base hit." That's something, no?) Things are starting to go your way, Frank—stay away from Jim Carrey!
And while it's on the fence, August Rush is making a strong case for this week's Straight-to-Netflick-Queue Award. It barely broke the $10,000 average threshold and, well, it stars Jonathan Rhys Meyers—blech—and Keri Russell—already accustomed to watching her on TV—and it's directed by Jim Sheridan's daughter, Kirsten Sheridan—intrigued, but not $11 intrigued, if you know what I mean.
Absent from this week's top ten, but still contenders: Todd Haynes' I'm Not There, deemed "the weirdest movie of the year" by New York Times Magazine, and Noah Baumbach's Margot at the Wedding, featuring Nicole Kidman in her most despicable role to date—which is saying a lot!
List of theaters: Paris, Zeigfeld, Oprheum, East 85th St., 86th St. East, 84th St., Lincoln Plaza, 62nd and Broadway, Lincoln Square, Magic Johnson, 72nd St East, Cinemas 1, 2 &3rd Ave, 64th and 2nd , Imaginasian, Manhattan Twin, First and 62nd St., Angelika Film Center, Quad, IFC Center, Film Forum, Village East, Village Seven, Cinema Village, Union Square, Essex, Battery Park 11, Sunshine, 34th Street, Empire, E-Walk, Chelsea, 19th Street East, and Kips Bay.
Manhattan Weekend Box Office: How moviegoers in the multiplexes of middle America choose to spend their ten-spot is probably a big deal in Hollywood. But here in Manhattan, the hottest movies aren't always the ones making the big bucks nationwide. Using Nielsen numbers for Manhattan theaters alone and comparing them to the performance of the national weekend box office can tell you a lot about our Blue State sensibilities. Or nothing at all! Each Monday afternoon, we will bring you the results.