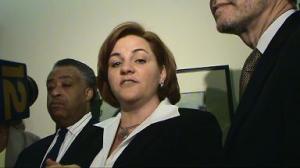 In case you didn't know, it's the "Day Out Against Hate," a string of events Christine Quinn organized to raise ideas for combating the reported 20 percent rise in hate crimes.
The Speaker was joined in Brooklyn this morning by a number of people, inlcuding Al Sharpton and Brooklyn Borough President Marty Markowitz, who made the most far-reaching proposal. Markowitz suggested, rather strongly, that city public school students be required to make field trips to institutions like the L.G.B.T. center in lower Manhattan.
In a Q&A with reporters, I asked Quinn about Markowitz's mandated field trips. She replied "there were a bunch of different ideas that got brought up in there. I think we're going to take them all to the Department of Education, the Department of Youth and Community Development and explore them and explore how we can make them possible."
Sharpton was asked whether there were any political implications in his appearance with Quinn, who is eyeing a mayoral bid in 2009. "Before '09, comes '08, and I haven't made an endorsement there. So I'm certainly not on the '09 calendar," Sharpton said.