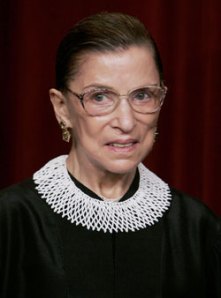 First things first: Who's getting what? Well, it seems you don't have to be a Supreme Court clerk anymore to leave those black robes in the dust. At top firms such as Cravath, Swaine & Moore, first-year associates—those who graduated from law school in 2006—are getting year-end bonuses of $35,000 and one-time "special" bonuses (about which more in a moment) of $10,000. Add that to a base salary of $160,000, and you end up with a total of $205,000. Thus, a 25-year-old kid could take home $2,000 more in salary this year than Justice Ruth Bader Ginsburg. Although the gap between law firm and judicial salaries is nothing new, this may be the first time in history that a first-year associate earns more than a member of the highest court in the land.
For more seasoned lawyers, the rewards are even richer. The most senior associates will generally get a year-end bonus of $60,000 to $65,000 and a special bonus of $50,000, on top of a base salary of $265,000 to $280,000—for a total just shy of $400,000, all in.
But are things really so rosy? There are some signs that trouble lies ahead.
THE NEW YORK office of London-based Clifford Chance was one of many Big Law shops to match the Cravath bonuses. But the good news was balanced by bad: Earlier that same week, Clifford Chance announced associate layoffs.
The firm, a member of the so-called "Magic Circle" (London's top-five law firms), took half a dozen associates and made them disappear. The laid-off associates worked in structured finance, a practice area especially hard hit by the credit crunch and mortgage market meltdown. One of the departed suggested to the New York Law Journal that the timing of the layoffs, announced just two days before the firm announced bonuses, appeared designed to deny bonuses to the victims.
On AboveTheLaw.com, the online legal tabloid I edit, reader reaction to the layoff news was swift and decisive. A representative comment: "I just want to say that Clifford Chance sucks donkey balls." Thanks for sharing!
Why do law firms strain so mightily to avoid layoffs? Among other things, it's a healthy aversion to being regarded by prospective recruits as treating donkey testicles like gobstoppers. Although law firm layoffs are not unheard of, they are very rare. (In contrast, Wall Street has already laid off over 40,000 people in 2007, with more surely to come before the year's end.)
But there's more than a little concern in Big Law these days. Greater job security is, after all, supposed to be one of Big Law's selling points vis-à-vis Wall Street. When times are good, investment bankers and hedge funders lord it over lawyers; but when times are bad, at least the lawyers still have jobs. Who else will file the lawsuits and bankruptcy petitions arising out of failed businesses?
One firm bending over backwards not to lay off associates is McKee Nelson, a prominent midsize firm specializing in tax and structured finance. Instead of laying off associates, the firm is paying its lawyers to go away. Associates are being offered a full year-end bonus for 2007, as well as four months' pay, to depart voluntarily. Associates can also take a yearlong "sabbatical," for 40 percent pay, and with a full year-end bonus for 2007. If business for the firm has picked up a year from now, the associate can return—but only if business is good again.
Splashed all over the McKee Nelson Web site is this motto: "This is where business is going." Let's hope not.
EVEN THE STRUCTURE of this year's bonuses has an ominous undertone. Bonus mania was kicked off early, by Cravath, and the firm did things a little differently. It announced year-end bonuses at the same levels as last year, payable in December. But it also announced those so-called "special" bonuses, to be paid on top of the year-end bonuses, in November. The firm characterized the special bonuses as a one-time event, triggered by Cravath's excellent results for 2007, but by no means guaranteed to be paid next year or in future years.
The special bonus structure has an odd, Janus-like, backward-and-forward-looking quality: Cravath showered its associates with extra cash, in recognition of strong past results, but cautioned them not to count on such largesse going forward, thanks to volatility in the credit, stock and housing markets.
As Cravath presiding partner Evan Chesler told the New York Law Journal, "We've said to people quite explicitly that the business environment is uncertain." Translation: This may be the last big bonus season we'll see for a while. Or as McKee Nelson might put it, "This is where business is going."