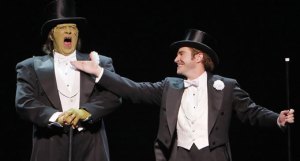 Late in the second act of Mel Brooks' Young Frankenstein comes the sublime song-and-dance showstopper that lifts us all into comic euphoria. The inspired, iconic version of "Puttin' on the Ritz"—here adapted by director-choreographer Susan Stroman from the original 1974 movie—defines Mr. Brooks' brand of manic genius. But, alas, the big number only emphasizes everything that's gone surprisingly wrong with the rest of the show.
Dr. Frankenstein ("That's Fronken-steen!") has taken over a village theater—Loew's Transylvania Heights—to introduce his reborn Monster to the public. "And now, ladies and gentlemen, from what was only an inarticulate mass of lifeless tissue, I give you a cultured, sophisticated man about town. Hit it!"
Whereupon the conductor strikes up the orchestra. And Frankenstein sings Irving Berlin's immortal lyrics—
If you're blue,
And don't know where to go to,
Why don't you go
Where fashion sits …
And the clumping Monster suddenly joins in like a tuneless, slow-witted Boris Karloff with—
Puttin' on the Ritz!
Then he tap-dances in white tie and tails—tries to tap-dance—like Fred Astaire in the great, effortless number from Blue Skies (1946). It's a deliriously funny moment and a perfect musical sendup of vintage monster movies.
Then the sequence builds and builds when Ms. Stroman brings on a chorus of chic monsters in their white tie and tails to join in the fun. The tap-dancing Monster himself is now gaining confidence! Not only that—he's good! Furthermore, we're glad for him. He's in love with showbiz! We're on his side.
The Monster is brilliantly played by Shuler Henley, and the gleeful look he gives the poor lug's stagestruck eyes is something to behold. He's alive! (Truly.) And the glorious sequence proves what we know about Mel Brooks: When he's on a roll, he's unbeatable (and unstoppable).
Ms. Stroman's version of "Puttin' on the Ritz" is exactly in tune with his infectious lunacy. She even escalates the number by adding another Astaire tribute, the classic "Bojangles of Harlem" dance sequence from Swing Time (1936): The Monster ends up tap-dancing like a trouper in expert competition with his own monstrous shadow.
THAT ONE JOYFULLY spontaneous number apart, where did Young Frankenstein go wrong?
The sputtering production is far from Susan Stroman's best work. As a choreographer, her flair for pastiche shines during "Puttin' on the Ritz," but it amounts to little more than generally exuberant filler elsewhere. Her staging of "Roll in the Hay" is raunchy fun. ("When spirits are saggin'/ Just jump in a wagon"—music and lyrics by Mel Brooks.) But she repeats herself by using the excuse of a new dance craze for two different numbers. The second, "Transylvania Mania," is intended to close the first act with a bang, but in spirit it's yet another Astaire pastiche—"The Continental," from The Gay Divorcee (1934)—and it only promises to take off.
I'm afraid that Ms. Stroman's work as director is also uneven. That closing act-one dance sequence, for example, is preceded by a little song, "Welcome to Transylvania," though the show arrived in Transylvania seven scenes earlier.
The production is handsome, like a stylish facade, but the pace of the first act is sluggish. (Act two is better and funnier.) Only Mr. Brooks would write a slapstick scene between a Monster on the loose and a lonely blind hermit. Ms. Stroman's direction of the farcical mayhem is uninspired—as if the laughter would come automatically. (Devotees of the movie obliged, laughing in advance.)