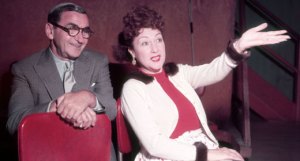 BRASS DIVA: THE LIFE AND LEGENDS OF ETHEL MERMAN
By Caryl Flinn
University of California Press, 556 pages, $34.95
ETHEL MERMAN: A LIFE
By Brian Kellow
Viking, 336 pages, $25.95
Two biographies of Ethel Merman in the same month? You may think that's overkill, but you may also think that one biography of Ethel Merman is overkill, considering that there already are two, one of them very recent, plus a pair of autobiographies. The real problem isn't the duplication; it's that although she had one of the greatest careers in Broadway history, she was just an uninteresting woman. Even the story of her success is uninteresting: She had no struggle getting to the top and no struggle staying there. Miserable childhood? The opposite. Bad marriages? Only four—but she rode them out with something approaching equanimity. Trouble with her children? Yes, but did she notice?
Her life began as it was meant to go on—easily. No one ever had more loving and supportive parents, and no one ever cared more for parents in return. Even once she became a star, she would go home after her show every night to where they all still lived, in Astoria, Queens. And when she married, she had Mom and Pop Zimmermann ("Merman" was a contraction) living a few floors away from her in a fancy building on Central Park West.
Merman was in 14 Broadway shows over 35 years, including a sensational stretch in Hello, Dolly!, and they were 14 hits. Her voice never gave out. Her fans never abandoned her. Her only professional disappointment was that her movie career never really flourished. (Worst was being screwed—she thought—out of the film version of her greatest role, Gypsy's Mama Rose.) She was a star from the beginning. She was rich. She had dozens of pals—the Duke and Duchess of Windsor among them. She had a lot of "escorts" (including Walter Annenberg), and a big public romance with the highly conspicuous Sherman Billingsley, millionaire owner of the Stork Club. But did she have real friends?
According to the brilliant lyricist Dorothy Fields, who was fond of her, "She knows all the small talk, but you can't sit down and talk to her, you just can't." Arthur Laurents, who wrote the book for Gypsy, found her dumb: "She doesn't calculate. She doesn't weigh things. She just blunders ahead." (Apparently, she never picked up a newspaper, let alone a book.) Pete Martin, the ghostwriter of autobiography number one, said, "Ethel seemed to have little perspective, or insight, into her spectacular career." The reviews said worse: "It is difficult to believe that Ethel Merman, as dynamic a stage personality as Broadway has ever produced, could possibly be the dull-witted, tiresome egoist offstage that this book makes her appear to be." Not, perhaps, a good omen for the biographer.
SO WHAT DO Caryl Flinn, author of Brass Diva, and Brian Kellow, author of Ethel Merman, have to contribute to the Merman saga? Very different things, it turns out. Professor Flinn is an academic, at the University of Arizona, and author of The New German Cinema: Music, History and the Matter of Style. This perhaps accounts for the flaws in her otherwise careful and intelligent book. One of them stems from the negative side of her admirably zealous research: too much detail. Do you want to know, for instance, exactly where young Ethel lived in Astoria? "In her first autobiography, she gives 2903 1st Avenue as the place where she grew up; in her second, 31st Avenue. Biographer Bob Thomas claimed it was 359 Fourth Avenue. Saved mail to the family postmarked in November 1931 was received at both 2908 31st Avenue and 3056 30th Street." Thank you, Professor.
In the same spirit, Ms. Flinn provides extended plot summaries of a series of insignificant and forgotten one- and two-reelers that Merman made for Paramount in the early 30's. This is material previously untouched by critical hands, and for the sake of grasping Merman's early performance style I'd love to sample throwaways like Her Future, Ireno and Song Shopping. But reading seven tight pages about them is just too much of a good thing.
And then there's Ms. Flinn's insistence on placing Merman sociologically. Issues of feminism, class and culture are constantly put forward: "Ethel was always a lightning rod that reflected changes in the social landscape, and in her (and responses to her), we see evolving attitudes toward family, sex, celebrity, class, and age." Sorry, but that not what I saw. It's not that Ms. Flinn plays down Merman the phenomenal performer; it's that she plays up the idea of finding significance where only achievement matters.
Brian Kellow's background lies in music and performance (he's the features editor of Opera News), and therefore he's more focused on Merman's actual singing and stage smarts. His fluent book, then, is more useful on the musician, less perceptive about the life.
AND WHAT WAS the life? Ethel Agnes Zimmermann was born on Jan. 16, 1906, 1908, 1910, 1911 or 1912 (the last of which, if true, would have seen her graduating from high school at 12). Her parents—Pop's background was German, Mom's Scottish—were hard-working, frugal, serious, churchgoing and musical. Baby Ethel's voice was huge from the start, and by the time she was 5 she was making public appearances, not only in church choirs but in Pop's Masonic lodge, pageants, the Women's Republican Club. (One of her boasts was that she never took a singing lesson in her life.) Cautious and pragmatic like her parents, she chose to take commercial courses in high school in case singing didn't pan out, which is how she came to be working as a stenographer, first at Boyce-ite (antifreeze), then at BKVacuum Booster Brake Company (power brakes). Meanwhile, she was doing nighttime radio shows. By 1927 she has her photo on sheet-music covers; by 1928 she's singing at the Democratic convention that nominated F.D.R. as governor and performing in tony nightclubs. By 1930 she's playing the Palace.
It's at the Brooklyn Paramount that she was approached by a top Broadway producer, Vinton Freedley, who was looking for the second female lead for the new Gershwin show, Girl Crazy. (Ginger Rogers was the ingénue.) He was knocked out by her, and hurried her to George and Ira's apartment for an audition. They were knocked out too, and in a famous exchange recounted over and over again (usually by her), George said, "Miss Merman, if there's anything about these songs you'd like to change, I'd be happy to do so." "They'll do very nicely," she replied.