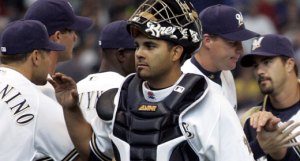 The old baseball trade saw, "You have to give up something to get something," only partially explains the Mets' trade of relief pitcher Guillermo Mota to the Milwaukee Brewers for catcher Johnny Estrada.
While the trade provides the Mets with a viable catcher to pair with the returning Ramon Castro, far more important is what the trade allows them not to do.
First and foremost, the Mets needed to complete their catching situation. While the incumbent starter, Paul Lo Duca, expressed interest in returning, the Mets were justifiably wary of signing a catcher entering his age-36 season with one discernable offensive skill–making contact–to a multi-year deal. Add into the mix the fact that Lo Duca bristled at increased playing time for Castro, who is Lo Duca's superior offensively and defensively, and the Mets were right to cut bait.
But after a three-year deal with Colorado Rockies' catcher Yorvit Torrealba fell apart last weekend under mysterious circumstances, the Mets still needed an insurance policy for Castro, who has never caught a full season in the big leagues, and was diagnosed this past season with an arthritic back.
Dealing for Estrada, who is a notch below Lo Duca defensively, and a good bet to be a notch above him offensively, provides a second catcher who can provide continuity should Castro go down. Better yet, the Mets don't have to commit to Estrada long-term—they can simply offer him arbitration, and bring him in for a one-year deal in 2008. Estrada is also four years younger than Lo Duca, an eternity in catcher years.
With the other free agent catchers offering an array of poor offense, suspect defense, and attitude problems, the Mets' deal for Estrada also allowed them to avoid trading a top prospect for a backstop. Baltimore's Ramon Hernandez, for instance, would likely have cost the Mets one of their top three starting pitching prospects: Mike Pelfrey, Philip Humber, or Kevin Mulvey. Considering that Estrada's offense is only a bit worse than Hernandez's, and that the ideal candidate would play more than 50-60 games only if Ramon Castro breaks down, this is a lot to give up.
While that would be true under any circumstances, it is particularly relevant over the next few weeks. The Mets have planned to add a number-one starter via free agency or trade for as long as Omar Minaya has been GM of the Mets. However, none have been available for a variety of reasons. But in the next few weeks, the Minnesota Twins will likely make Johan Santana available, Oakland may well do the same with Danny Haren, and Baltimore could entertain offers for Erik Bedard. Even the prodigal prospect, Scott Kazmir, may be dealt by Tampa Bay. Rumors have even circulated about the unanimous choice for National League Cy Young, Jake Peavy of San Diego.
Saving that prospect, in any of these bidding wars, might determine whether the Mets start next season with Santana, Haren, or a mediocre free agent like Carlos Silva to bolster the rotation. The difference is immense.
The final advantage lies in who won't be starting the season next year with the Mets: Guillermo Mota. Mets fans watched in abject horror as Manager Willie Randolph kept giving the ball to Mota in critical situations despite his unwavering ability to foster opposition rallies. What Mets fan hasn't thought about Mota's appearance in the ninth and tenth innings of a tie game in Philadelphia on August 28? A Ryan Howard home run provided not just the margin on that night, but also the difference in the NL East. Billy Wagner, meanwhile, stayed in the bullpen.
And it didn't promise to get any better next season. Mota's ERA was 5.74 in 2007. According to the ZIPS projection of Baseball Think Factory's Dan Szymborski, Mota's mean 2008 projection was a 5.06 ERA, most optimistic was 4.04, and worst-case scenario a historically-awful 6.80 mark.
Now the Mets can get on with the serious business of finding a replacement pitcher who can be used even in contested games.
No more frightening visions that begin with Mota's theme music, "I Like to Move It", and end with Mota's B-Side, Thunderous Boos.
In that sense, this trade is already a winner.