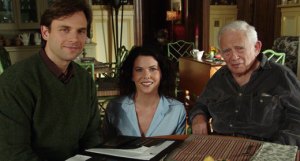 In a weird way, it's fitting that the Gilmore Girls: The Complete Series Collection would arrive this week, just after Norman Mailer's passing. It was not his last television appearance before his death, but it was close to it. And it might have been one of his most surprising—at least to the men who revered his work. (If they ever saw the show, they wouldn't dare admit it.)
Earlier this year, I attended a luncheon in honor of Norman Mailer, on the occasion of his latest book. There were men, everywhere, waiting to ask him: did he believe in God? Why did he write about Hitler? What did he eat for breakfast? I had something else on my mind. When he came to my table, I hollered across it: "Mr. Mailer, why were you on Gilmore Girls?"
Mr. Mailer didn't flinch. "I did it for my son," he said, and went on to explain that his son Stephen was a struggling actor, and Norman had agreed to do a scene with him (he played himself, his son played a journalist interviewing him) to get him on the show. He also rhapsodized about Suki, a character played by Melissa McCarthy, who ran the inn where Mr. Mailer's interview was going on. He thought she was hilarious.
For Gilmore Girls, a guest star like Norman Mailer was just business as usual. Over the seven seasons it ran, the mother-daughter comic-drama starring Lauren Graham and Alexis Bledel featured the likes of Sonic Youth, Christiane Amanapour, and The Shins not to mention Sally Struthers, Sebastian Bach and Sherilyn Fenn (remember Audrey from Twin Peaks? Cherry Stem? Hello!). Everyone –the regulars the extras and the in-betweens—seemed delighted to appear, to tromp around the idyllic Stars Hollow, munch on fries at Luke's Diner, get harassed by Town Selectman Taylor Doose or point fingers at Kirk, the village idiot. It was like a big family Thanksgiving all the time.
Speaking of, if you shrugged it off or just never managed to Tivo it or whatever, Thanksgiving weekend might be just the time to pick up the box set and take your own trip to Stars Hollow. There's a strike on, you know? And here are 42 discs of a show that's new to you. By the time you finish, the strike might even be over. At least, we hope.