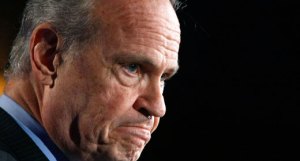 Back when he was still a member of the Law and Order cast, the promise of Fred Thompson as a presidential campaign seemed breathtaking in its scope: A confident and telegenic communicator who would jolt the moribund Republican base to life, dethrone Rudy Giuliani as the front-runner, marginalize Mitt Romney, knock John McCain out of the race, and then—as the nominee—charm the independents who have been jumping the G.O.P. ship back on board.
But the reality is more like this: A tired man half-heartedly pedaling a generic message, his fatigue practically contagious.
The notion that Mr. Thompson would overwhelm his G.O.P. foes and power his way to the nomination has long since been dismissed. No one now thinks he'll win Iowa, or even factor in New Hampshire, for that matter. Now, the talk is that he'll make a stand in South Carolina, which will somehow catapult him toward a dominant performance in the February 5 mega-primary.
But it's tough to see him meeting even those radically lowered expectations. The problem is that the smart guys (and gals—like Mary Matalin) who coaxed Mr. Thompson into the race badly misread the reasons for the G.O.P. base's depressed state. The Thompson crowd chalked it up to bloodless litmus test politics. Messrs. Giuliani, McCain and Romney, the thinking went, all had glaring shortcomings on issues like gun control, abortion, gay rights, and immigration and were thus being tuned out by conservative voters. So toss Mr. Thompson in, have him emphasize every topic on every conservative group's check list, and the rest would fall into place.
It hasn't even come close to working. And it's only getting worse.
Consider the latest national poll from NBC News and the Wall Street Journal, which has Mr. Giuliani safely ahead of the pack at 33 percent, followed distantly by Mr. McCain at 16 percent. Mr. Thompson runs behind him, at 15 percent—which is not good sign considering that he was at 23 percent last month and 26 percent two months ago.
Individual state polls indicate that Mr. Thompson is essentially in a free-fall.
Last month, a Rasmussen poll pegged his support in Iowa, which will hold its caucuses in less than two months, at 19 percent. In the four independent polls taken since then, though, his support has been cut in half—as low as 8 percent in a survey released two weeks ago.
The numbers are more dismal in New Hampshire, where Mr. Thompson hasn't cracked 10 percent in a poll in a month. He now regularly trails Mike Huckabee in the state, and even fell behind Ron Paul in one survey two weeks ago. Granted, the Thompson campaign isn't even pretending to be targeting New Hampshire, which is not the best fit for a southern conservative, anymore. But if his message and campaign skills even approached what they were sold as this spring and summer, sheer inertia would have Mr. Thompson faring much better in New Hampshire.
When he has shared the stage with his fellow Republicans in debates, Mr. Thompson has been an unqualified bust, fading into the background while his opponents—even Duncan Hunter on one occasion—have found creative ways to exploit the audience's passions. On the stump, he's been lethargic: The story of his request for applause at the end of a short and listless speech in Iowa continues to haunt him. The inadequacy of his public performances is magnified because one of the founding premises of his candidacy was that he, more than any Republican to come along the past two decades, would evoke the style and spirit of The Great Communicator himself.
But Mr. Thompson has firmly established that he is no Ronald Reagan. Not only does he lack Reagan's knack for delivering the perfect line in the perfect voice at the perfect time, he also lacks the simple, coherent message Reagan touted. Sure, Mr. Thompson is running as a "conservative," but all that means is saying the right words on tax cuts, judges and abortion to an audience that—as his campaign imagines it—is listening with pencil in hand, checking off each issue as it's mentioned.
Reagan, meanwhile, sold his principles—many of which seemed radical at the time—clever aphorisms, compelling (but largely apocryphal) stories, and a quick wit. Catching Reagan's act for the first time, voters who'd considered themselves Democrats their whole lives found themselves swearing off the party of their birth and re-christening themselves as conservatives. About the only epiphany the casual Thompson listener has is that, gosh, it must be getting close to bed time.
The Thompson campaign clearly realizes its launch has fallen far short of expectations. Instead of selling a Reagan-esque personality, they now seem to be selling their candidate as a sober-minded man of substance. (Except that the substance is largely missing.) And their new game is to play down Iowa (a little) and New Hampshire (a lot), and to swing for the fences in South Carolina, where Mr. Thompson can play the southern card.
It's a game that's been played before, and it never seems to work. If anything, it's reminiscent of another Tennessean, Al Gore, who swore off Iowa and New Hampshire in 1988 in order to consolidate support in the south on Super Tuesday. Mr. Gore did win a handful of southern states, but without momentum heading into Super Tuesday, his success was limited. Skipping Iowa and New Hampshire also marked him as a regional candidate.
Mr. Thompson is not completely skipping Iowa like Mr. Gore did, but his strategy figures to produce a similar outcome. Mr. Romney is far ahead in Iowa, with Mr. Huckabee, whose personality is much more Reagan-esque than Mr. Thompson's, steadily moving up. How Mr. Thompson will produce momentum of his own before the caucuses is anyone's guess. And if Mr. Huckabee does end up authoring the surprise story of Iowa, it will severely complicate Mr. Thompson's plan to bounce back in South Carolina, since Mr. Huckabee would also be able to campaign there as a son of the south – and one with momentum.
The 15 percent that Mr. Thompson received in the latest national poll makes him a factor in the G.O.P. contest. But the fact that Mr. Giuliani is still ahead—by a two-to-one margin—is proof enough that the Thompson campaign has already failed to meet its most basic promise: to shake up the Republican race.