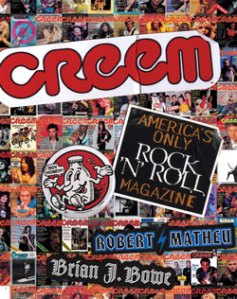 "I think I'm mentioned in passing. Their entire description of what happened at the magazine is cockeyed," said the rock critic Dave Marsh last week.
Mr. Marsh was speaking to The Observer about a new book, Creem: America's Only Rock n Roll Magazine, a retrospective of the legendary music journal, that was published last month by HarperCollins. The book had been put together by a man named Robert Matheu, who contributed photos to Creem in its later years, and in 2001 bought the rights to the Creem name.
Mr. Marsh—who started working at Creem in 1969, the year it was founded, and later served as its editor—said Mr. Matheu's book misrepresents the Creem legacy, presenting Mr. Matheu himself as more of a player than he was while all but ignoring many of the people who in fact were most central to the story of the magazine.
"It sounds like my involvement in the magazine was a drive-by, and this guy Matheu who was a freelance photographer, who was never on staff, he's all of a sudden one of the important photographers," Mr. Marsh continued. "I feel like Trotsky being rubbed out of the photograph."
In this week's paper, we reported on the bitter ongoing battle over control of Creem between Mr. Matheu and J.J. Kramer, whose father, the late Barry Kramer, founded the magazine. But another aspect of the saga concerns the intensely negative response to Mr. Matheu's book on the part of some of the early Creem staffers who helped establish the magazine's reputation.
In interviews conducted last week—and in the comments section of Wednesday's story—Mr. Marsh and several other former Creem editors, as well as Barry Kramer's widow Connie, complained that the book substantially underplays the magazine's early years, when many believe it was at its best, in favor of material from the 1980s—a less ground-breaking period when you were more likely to see John Cougar Mellencamp or David Lee Roth on the cover than Iggy Pop.
Some backstory: During the early 1970s, Creem established itself as one of the sharpest and funniest voices in the nascent genre of American rock criticism. A host of adventurous, influential rock writers—including Mr. Marsh, Lester Bangs, Greil Marcus, Richard Meltzer, and Robert Christgau—either got their start at the magazine or were published in its pages during its early years.
When Barry Kramer died in 1981, Connie Kramer tried to maintain Creem, but in 1985 she was forced to sell it to a businessman named Arnold Levitt. Mr. Levitt moved Creem out of its home in Detroit to Los Angeles, but the magazine folded soon after. Eventually, in 2001, Mr. Levitt handed the rights to Creem over to Mr. Matheu, who then incorporated a company called Creem Media Inc. In the six years since then, Mr. Matheu has started a Creem website, sold merchandise, and put together the book.
As we reported on Wednesday, Mr. Matheu and the rest of the board members of Creem Media are now facing an ongoing lawsuit from J.J. Kramer, who alleges that Mr. Matheu is failing to honor a deal to make the younger Mr. Kramer a partner in Creem Media.
As for Mr. Matheu's book, Mr. Marsh isn't the only former Creem stalwart to be outraged by it.
"It's not Creem as it really was," Susan Whitall, a writer at the Detroit News who edited the magazine from 1977 until 1983, told The Observer. "I look at it and it's like looking in a funhouse mirror, because I'm looking at something I was involved in, but it's not quite right, it's not quite in focus."
"John Mellencamp?" she said with incredulity. "He's in there. Come on! He's so un- Creem. Also, Duran Duran? I mean, what?"
Jaan Uhelszki, who started at Creem in 1970 as a "subscription kid" and left in 1976 as a senior editor, said the book's focus on the later years doesn't capture the true Creem spirit.
"Creem was a cultural force," she said. "We were so part of the fabric of that early 70s scene—we didn't suffer fools gladly, we were harsh, we were funny, and we were crazy. And there were no holds barred. That sense of abandonment isn't there in the selection….I just don't think the later Creem had that genius, that spark, that ire, that the first Creem had."
She added: "It's like two separate magazines. The later one is like proto-Spin."
Connie Kramer called the book "shallow and superficial."