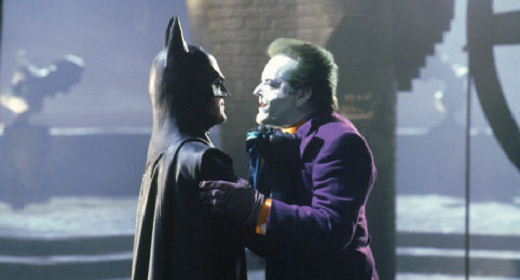 Jack Nicholson, a member of a dying breed of Geezer Roues according to the Observer's Spencer Morgan, might not even see the new Batman movie, Dark Knight, because he can't bear to watch pretty boy Heath Ledger play the Joker, which he made famous in the original Tim Burton-directed Batman.
MTV: What do you think of another actor, Heath Ledger, playing the Joker in next summer's "The Dark Knight"?
Nicholson: Let me be the way I'm not in interviews. I'm furious. I'm furious. [He laughs.] They never asked me about a sequel with the Joker. I know how to do that! Nobody ever asked me.
MTV: It was never brought up?
Nicholson: No. It's like, in any area, you can't believe the reasons things do or don't happen. Not asking me how to do the sequel is that kind of thing. Maybe it's not a mistake. Maybe it was the right thing, but to be candid, I'm furious.
MTV: I'm surprised to hear you sounding competitive about a role like that.
Nicholson: Well, the Joker comes from my childhood. That's how I got involved with it in the first place. It's a part I always thought I should play.
MTV: Will you see the new film?
Nicholson: I'm not inclined to watch it because of what I said. But if it's a good movie, I'll catch up with it somewhere. I don't think they ever really captured Tim Burton's spirit [since he stopped being involved]. They kind of drove the franchise into the ground. Tim Burton's a genius. He had the right take on it. That's why I did the movie. I did the movie based on a single conversation with him. We both come from the cartoon world originally. We had similar ideas. Tim said [the Joker] should have a humorous dark side to him. [Burton is] one of the great moviemakers. I think the world of him. He's the most unassuming man. And he doesn't feel pressure. That's what I love about him. Once he's in there, he's smiling making the movie. That's it!