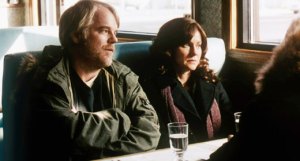 THE SAVAGES
Running Time 115 minutes
Written and directed by Tamara Jenkins
Starring Laura Linney and Philip Seymour Hoffman
In The Savages, a perfectly modulated and devastatingly on-target film about the dreaded moment of truth when children are forced to face their parents' mortality, sibling rivalry does not eventually graft into sibling revelry. Laura Linney and Philip Seymour Hoffman are Wendy and Jon Savage, an estranged sister and brother reluctantly strong-armed into an emotionally charged reunion when their cranky, independent father (Philip Bosco) suddenly becomes needy and homeless, suffering from what looks like early Alzheimer's with nobody to look after him. It's a crisis that opens old wounds and makes the grown siblings reexamine their own disappointing lives and personal failures. It is not a sitcom.
Wendy and Jon haven't seen each other in years. It's not that they hate each other; they just don't care or think about each other at all. Wendy is a second-rate writer struggling to be a playwright in Greenwich Village who steals office supplies from dead-end temporary jobs; her life is a series of rejection slips and broken love affairs. Jon is a shaggy, neurotic theatre professor in Buffalo whose academic career is going nowhere—he's slogging through an overdue book about Bertolt Brecht—and whose personal life is an uncontrollable mess. These two can't take care of themselves, much less the eccentric, domineering father they spent their lives escaping and avoiding. They don't even know where he is. When Wendy calls and tells Jon they have to rescue the old man from eviction in an Arizona retirement home, he says, "We're not flying out there, this is not a Sam Shepard play."
They're forced to live together and share the burden as caregivers, and the fabric of their lives disintegrates in the tangle of family baggage they unload. Writer-director Tamara Jenkins takes the audience on a harrowing, heartbreaking and often unexpectedly funny tour of the things you have to endure when hit between the eyes with responsibility and obligation: cleaning out the closets, researching nursing facilities, poring through financial options, filling out endless Medicare forms, writing living wills, investigating burial plans and visiting support groups for "people with confused elders." This is something that happens to everyone after a certain age. It's a rite of passage. The wise way it has been depicted here is not maudlin; given the film's serious undertones, it leaves no stone unturned about the inevitability of life, illness and death.
The two stars are so truthful and believable that they leave no doubt that they are authentic siblings. Laura Linney, one of the most radiant and versatile actors since Meryl Streep, masks her dark side with a ratty hairdo and a sunny smile that diffuses false confidence. Philip Seymour Hoffman has identity issues; he's childish and narcissistic, and he displays a strange sense of false entitlement. Mostly he just wants to be in someone else's skin. Their alternating expressions of trepidation, fear, exasperation, confusion and panic are thrilling to watch. Every significant sigh, shrug and petty outburst hits home hard. Wendy and Jon have to get over long-standing tensions—with each other, with their father and with the world at large that has left them bruised and unfulfilled. The stars are brilliantly matched in both their sharp comic talents and their ability to reveal the throbbing pathos at the core of their characters' lonely lives.
The Savages is a film about growing up late, growing old early and facing the anxiety of death—intimidating subjects that are usually treated with sentimentality. To everyone's credit, this film faces these issues bravely and humorously, eschewing any hint of emotional manipulation. No Hollywood ending here. These siblings will always live in different worlds. But in the end I got the feeling they had learned, from an uncomfortable experience, something perceptive and affirmative. I left The Savages feeling I had a moving, masterful and memorable experience of my own.