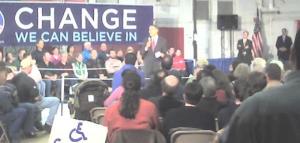 Here's Barack Obama speaking at a junior high school in Berlin, New Hampshire last night.
At one point he was asked to name his three favorite movies.
"Godfather one and two," he said. "That counts as one film. Great movies. One Flew Over the Cuckoo's Nest. Jack Nicholson, great flick. Great movie. Casablanca. Humphrey Bogart."
There you have it.