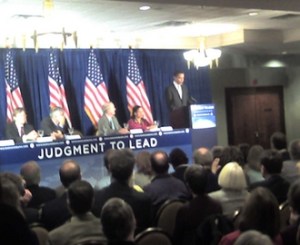 After two hours of gushing praise for Barack Obama from his foreign policy advisors at a campaign event at the Portsmouth Sheraton, Obama finally showed up to speak to about 120 New Hampshire voters.
He introduced a new theme of "openness" to his foreign policy rhetoric.
"Those of us who want to lead this nation need to be open and clear and candid with the American people," said Obama.
While he never uttered Hillary Clinton's name, he seemed to draw contrasts between his own and her own key foreign policy positions.
"On Iraq," he said, "I have never supported this war and I have been clear about how I will end it." On the subject of Iran, he told the audience, "I haven't just opposed the rush to war, I have put forward a new approach," by which he meant he would talk directly with the Iranian government. He also pointed out that he had never wavered on torture.
"This isn't about just drawing contrasts," he said. "It is about doing what is right."