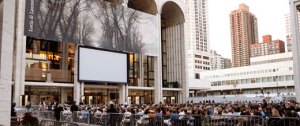 Want to fast-forward through the snoozy parts of Gounod's Romeo et Juliette? (Like, who doesn't, right?) You'll be able to in January, when the Metropolitan Opera will be available pay-per-view through a deal with In Demand.
"This deal is a logical outgrowth of our arrangement to transmit eight of our operas this year to more than 600 movie theaters throughout the globe," said Peter Gelb, general manager of the Met.
Tens of thousands of moviegoers bought $18 tickets to catch a live Saturday-afternoon Met Opera performance last year, a price that goes up to $22 for eight separate operas, roughly one a month, this year.
Rob Jacobson, president and CEO of In Demand Networks, said that as many as 30 million digital-cable subscribers will gain access to the eight monthly operas.