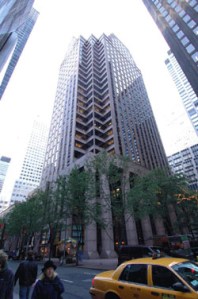 The Paramount Group paid more than $500 million for Deutsche Bank's tower of approximately 700,000 square feet at 31 West 52nd Street, according to a source, bringing the German bank's tower into the hands of a German landlord.
Paramount, led by CEO Albert Behler and backed by investors in Germany, bought 60 Wall Street earlier this year for $1.2 billion, downtown's largest ever building deal. The Deutsche Bank tower buy could make the firm particularly hungry to shed its 1177 Avenue of the Americas, the one million-square-foot midtown tower currently on the selling block. Real estate insiders say the price is likely to reach at least $1 billion.
The terms of the Deutsche Bank tower acquisition were signed earlier this month, a bank spokesman confirmed, though the final price could tell much about the market. Few building sales of at least $500 million have closed this last half of 2007, and if the final agreement for the tower was $550 million, for example, the per-square-foot price would be in the neighborhood of $790 a square foot, well under the $1,500 a square foot that some had thought it could go for.
Paramount Group declined to comment, as did a representative from brokerage Jones Lang LaSalle, which represented Paramount on the sale.