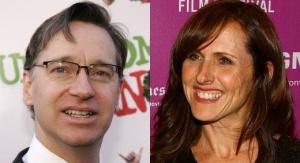 Paul Feig, Judd Apatow's buddy and co-creator of Freaks and Geeks (one of the best underappreciated shows ever), will direct the pilot for the Molly Shannon-helmed comedy Kath & Kim.
"Kath & Kim" is based on an Australian format about a woman and her daughter. Universal Media Studios and Reveille are producing the project, which — barring any strike-related difficulties — is expected to lense later this fall.
Feig has directed a number of TV shows, including "Arrested Development," "30 Rock" and "Mad Men."