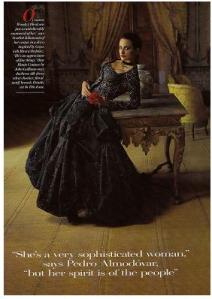 In Vogue's holiday issue, actress Penelope Cruz unloads on the paparazzi that fueled the story that she and U2's Bono were having an affair:
Like when I went on holiday to Bono's house with his wife and kids… we were holding hands because we're very good friends, and do you know what the paparazzi did to us? They took photos and cropped out Bono's wife and children! So they made up a story about us being together, knowing perfectly well that I was there with the whole family.
In fact, her obsessions have been a little more prosaic. Here's her account of girlish excitement at getting her first call from director Pedro Almodovar:
I became completely obsessed with Pedro. Then he called me when I made my first movie, Jamon Jamon. I remember that day like it was yesterday. I was drying my hair in the bathroom, and somebody said, 'Almodovar is calling.' I couldn't believe what I was hearing–I'd dreamed about that moment for so long… Now, he's like family to me.