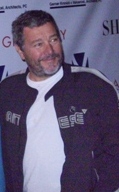 Eccentric designer Philippe Starck apparently doesn't think much of the Royalton Hotel's new look.
"I think if you are lucky enough to own an icon, you shouldn't kill the icon," Mr. Starck said of the hotel lobby's recent redesign, during an interview with the New York Times.
Mr. Starck, of course, created the Royalton lobby's prior look for hotelier Ian Schrager in 1988, featuring "chair legs shaped like ram's horns" and "a Champagne bar that conjured up the inside of a genie's bottle," as the Times put it.
In its heyday, the Starck-designed lobby and restaurant 44 offered a fashionable hangout for media people and celebrities, and some credit the Starck-Schrager partnership at the Royalton with pioneering the whole boutique-hotel craze.
Restaurateur John McDonald, who spearheaded the recent lobby redesign alongside architects Roman & Williams, previously explained his rationale for the total lobby overhaul in an interview with The Observer.
"After 20 years, what was there really needed to be completely changed to pay respect to what it was," he said. "I think Ian [Schrager], who was really the godfather of the hip hotel, would agree that you have to evolve. You can't leave it the same just for the sake of leaving it the same."
Mr. McDonald had criticized the "separatist mentality" of the prior design: "[I]t was a very high-impact, intimidating experience. It was really like walking down a runway. Everybody in the lobby was watching you. 'Who's checking in?'"
Mr. McDonald said he intended to keep the vibe "sexy" while injecting "a new level of intimacy and warmth."