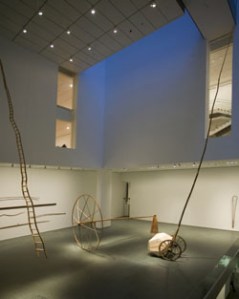 It's no coincidence that the Museum of Modern Art has dedicated the better part of the year and a tremendous amount of exhibition space to two major American sculptors: first Richard Serra, and now Martin Puryear, whose work is the subject of a retrospective. Minimalism provided both artists with a springboard for art that went beyond the movement's stark emphasis on material independence.
Mr. Serra transformed minimalism into a form of theater—having absorbed its brute certainties, he created a sweeping, bullying art. The sculptures are significant—given their gargantuan scale, how could they not be?—but the artist couldn't care less if anyone looks at them. Spectacle is Mr. Serra's thing.
It's Mr. Puryear's thing, too, as evidenced by the installation of five giant sculptures in MoMA's second-floor atrium—including Ad Astra (2007), a new work making its public debut. The sculptor invites us to come close and, in the case of Desire (1981), to walk under—confirming, then augmenting, our amazement in a distinctly human way. Here this least ostentatious of artists parts ways with Serra: The construction of Puryear's sculptures retains the air of a backyard wood shop; they are unabashedly hands-on, intimate despite their scale.
Mr. Puryear's experience with wood, his signature material, has a long history. His father was an amateur carpenter, and he made guitars while in college. As a member of the Peace Corps, he learned "old world joinery" from local woodworkers in Sierra Leone. While attending the Swedish Royal Academy, Mr. Puryear spent three weeks in the studio of furniture maker James Krenov.
Yet the artist demurs at claims that he's a consummate craftsman. "The irony," he has said, "is that my work is often thought to be flawlessly crafted, [but] it isn't." He's no advocate of finish: The wood grain is rough, the paint and stain are sanded down, the staples are removed and left unfilled, dowels bluntly announce their function and what look to be traces of rust dot some of the sculptures. But there are different kinds of finishes. Mr. Puryear's surfaces refuse slickness and are an avowal of the integrity of process—and not a little self-conscious.
Mr. Puryear's penchant for handiwork helps account for his rejection of minimalism. "I got real close [to minimalism]," he explains in the exhibition's catalog. "I looked at it, I tasted it and I spat it out." Machine-tooled sculpture, often done without the artist's direct involvement, distanced the artist. "My own feeling," Mr. Puryear continues, "is that it's just unlimited what can go into art."
Those aren't the words of a dogmatist. Any artist whose work points to influences as diverse as classical statuary, African totems, Mogul miniatures, Barbara Hepworth and the raucous sculpture of H.C. Westermann knows that one of the best things about art is that it can encompass practically anything.
MR. PURYEAR'S SCULPTURES are alternately brutish, clumsy, whimsical and elegant; at their best, they're all at once. Oddball forms resemble baskets, Easter Island effigies and, in the case of Lever #3 (1989), the sensuous and almost musical unfurling of an elephant's trunk.
He is fascinated by containment and the promise of release. The sculptures are forever attempting to expand or escape from their physical parameters. Bask (1976), a wedge of stained pine, swells and shifts like a muscle burdened by its own strength. The softly rounded dome of Self (1978) comes to fruition with measured determination. In the balletic Sharp and Flat (1987) and Timber's Turn (1987), gesture is stilled to unnerving effect; their angular torsion is rendered bathetic and comical.
A stringent and somewhat unforgiving sense of humor is an integral component of Mr. Puryear's art. You can see it in his muted anthropomorphism. Abrupt juxtapositions of line, mass and shape result in a spare variety of Mutt-and-Jeff slapstick.
Lover #1 is a stepped plane culminating in a ridiculous appendage—an elongated shoehorn, maybe, or a stiffened tongue. An untitled work from 2000, wherein a scrawny maple sapling arches upward from a tear-drop structure, is a hilariously understated priapic joke. Mr. Puryear's deadpan demeanor helps prevent Old Mole (1985), with its pinched and inquisitive "nose," from descending into cute punnery.
BUT JUST BARELY. Dry wit doesn't entirely compensate for the increasingly literal character of Mr. Puryear's art. An occluded strain of symbolism has long informed the work, but has, in recent years, become distressingly pronounced. He has begun to impose a dull gloss of it on his sculptural inventions. When he tops an abbreviated architectural structure with an extended hornlike spire or pays homage to African art by hefting an inverted approximation of a mask on top of a found wheelbarrow, his work isn't much more than high-flown kitsch.
Mr. Puryear likens the titles of his sculptures to poetry: "I think they should open up the imagination rather than shut it down." Would that the new pieces embodied the conceit: Their poetry explains rather than expands. "Meaning" becomes paramount. And all that impeccable craft? It's along for the ride.
Still, Martin Puryear is a marvel of contemporary art. Viewers will relish these sculptures for their unassuming mastery and droll gravity.
Martin Puryearis at The Museum of Modern Art 11 West 53rd Street, until Jan. 14.