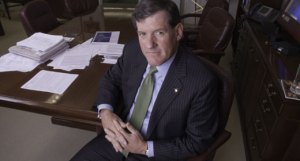 LOCATION: Why did you take this job?
Mr. Lieber: Because I had a great career at Lehman Brothers. I had been there for 20-some-odd years and had always been intrigued by New York City. I was not born here and didn't go to school here. I moved here in '76, '77. If you look back, it was kind of New York at its worst. I told my girlfriend that I would go to New York because she was going to graduate school. I said I was going there for a year and a half; there was no chance I was going to stay there in that hellhole. And that was 30-some-odd years ago. I ended up marrying her and she is the mother of my two children, and so this is our home.
How old are you now?
Fifty-three. So I started at what became Lehman Brothers as a summer associate in 1983 and retired from Lehman last February. I had worked with [Deputy Mayor] Dan Doctoroff when he was in the private sector. I didn't know him well but knew him a little bit and then did some work with him around developing an alternative plan for getting the World Trade Center development or reconstruction back on track. And then following that, Dan and I were talking about maybe something else to do. [The former president of the Economic Development Corporation, Andrew Alper] had left in June of 2006, and so one thing led to another. I said what the hell. It's a great administration. It's a great time in New York. I had some experience in the real estate world, so why not?
What's your economic development strategy?
The theme for us is really threefold. One is to make the city a more livable place, to be business-friendly, and to look to ways to diversify the economy by industry as well as by borough. While everyone else in the world thinks Manhattan is New York City, the growth we are going to see is going to take place in the outer boroughs, so a lot of what we are doing in this administration is to concentrate the areas of prospective growth in those areas where we have transportation.
If you look at what [City Planning Director Amanda Burden] has done in rezoning, a lot of that has been directed at where we have mass transit: in downtown Brooklyn, in Long Island City and most recently in Jamaica.
Do you really think that these secondary business districts are going to work?
I absolutely think they will work. I don't know whether you want to use $100 a square foot [or] $180 a square foot for what is prevailing office rent in midtown office buildings, but that's pretty damn expensive for start-up businesses and businesses that need lots of space. I think that Long Island City is at the tipping point, that it is poised for growth and will take off. I think the weakness of Long Island City is that it still looks like an industrial area, and you don't have a lot of commercial activity. Residential, yeah, but there is no place to shop. There are no pharmacies, no drug stores, no great places to eat, no restaurants.
Speaking of industrial areas, what do you want to see happen in Red Hook? Do you want to see a container-port operator stay there?
In Red Hook, what I would like to see are job-intensive users. When you look at the model of container ports today, big container ports today, Red Hook is not that model. There is not enough upland acreage to be able to accommodate a big container business.
Meaning you don't want to maintain a container-port use there?
No, I didn't say that. If you look at the container business, the way it's been run for the last 10 years, 15 years, it's all been barged back to New Jersey. That's because you don't have the storage capacity to accommodate all those big containers. I don't think anyone thinks that, long-term, Red Hook is a real viable container terminal. I think it is a great potential market for break bulk and for other uses that don't lend themselves to big containers.
We don't own those piers. We have signed [a memorandum of understanding] to potentially acquire them. I do believe that they are underutilized as they sit there right now. We tried to work with the Port Authority to work on a model. We can't get to where we want it to be to get it done. We still believe there is a future for an expanded cruise ship business in Brooklyn, but it was not something we saw expanding to another terminal. As we sit here today, we can't identify the operator. Cruise ships are an important part of New York's reputation. They are not job-intensive employers.
What about Coney Island? Why are you looking for another developer aside from Thor Equities to operate the amusement area there?
What we would like to try to do is look for ways to broaden seasonality of the business there so that it's not just from Memorial Day to Labor Day, but in a way that emphasizes outdoor amusements so you don't just have it overrun with projects that look like the Mall of America. We want to present a plan that balances the character and history of Coney Island, that creates new densities so you can get economic growth, but still preserve the dedicated part of the area that will be for amusements and not just entertainment.
But so much of that is what Thor Equities says it wants to do, so why don't you like its plan?
Because I don't think that 1,400 hotel rooms packed in on a site with an indoor water park meets the idea of open-air amusements. If it's an indoor water park, it may be a 12-month season, but it's not really consistent with the character and history of Coney Island.
When you say 1,400 hotel rooms, where is the market?
We think there is market, but we don't see that sort of depth in the market. So our plan is going to be much more consistent with a vibrant active amusement area that would carry it through the year, not just 90 days.