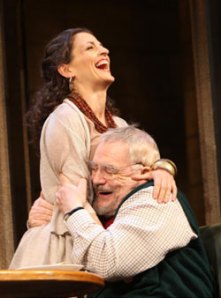 There are three and a half good reasons to celebrate Tom Stoppard's Rock 'n' Roll: the three star actors from England and the second act of the play.
Mr. Stoppard dazzles and surprises, as we've come to expect from the celebrated playwright and intellectual—not least by using rock music as his central metaphor for subversive change in times of political upheaval and persecution. Yet the pleasure of the evening belongs most to the three lead actors imported from the original West End production.
Brian Cox is riveting as Max Morrow, the Cambridge professor of politics and an unrepentant, hard-line Communist who describes himself as "the last white rhino." The great Mr. Cox is in the acting tradition of Michael Gambon: He takes no prisoners onstage (or in the audience). He's emotionally volcanic, dominant, witty and entirely convincing as blinkered Max, born on the day of the October Revolution and still raging against political reality.
To this unapologetic British Marxist who sees himself as a "biological machine" left over from the Cold War, "a reform Communist" is "like a nun who gives blow jobs is a reform nun." Nowhere in the sprawling episodic play—which is set in Cambridge and Prague between 1968 and 1990—is Mr. Cox (or Mr. Stoppard) more exhilarating than when he's arguing on behalf of the god that failed in Max's blistering speech to his reformist, rock-loving Czech student and protégé whom he mocks, quite affectionately, as "a bed-wetter." Max is the old warrior pleading for the Marxist faith in the age of Pink Floyd romanticism ("Lean out of your window, golden hair") and stoned flower-power demos in Grosvenor Square.
"Do everyone a favor go and live in the West, it's where you belong," he tells the utopian Jan who's returned home to Prague to create Communism with a human face: "If it wasn't for eleven million Soviet military dead, your little country'd be a German province now—and you wouldn't be bellyaching about your socialist right to piss everywhere except in the toilet; you'd be smoke up the chimney."
Rufus Sewell, a charismatic stage actor (better known here, perhaps, for the movie The Illusionist) is brilliantly effective in his portrait of Jan's quietly tentative modesty, his shyness and political naïveté, his disillusioning defeat and ultimate, dizzying liberty.
Jan is a fan—like Mr. Stoppard's friend, Václav Havel—of the revolutionary Czech rock group Plastic People of the Universe (the Eastern European equivalent of the Velvet Underground). Explaining to a dissident friend why the apolitical, long-haired group was banned for its "socially negative music," and why its cool and indifferent leader was jailed, Jan points out shrewdly:
"… the policeman's fear is what makes him angry. He's frightened by indifference. … The policeman isn't frightened by dissidents. Why should he be? Policemen love dissidents, like the Inquisition loved heretics. Heretics give meaning to the defenders of the faith."
Czechoslovakia's Plastic People weren't political heretics, Mr. Stoppard points out, but unbribable pagans.
I'VE LITTLE DOUBT that when it comes to the Tony Awards, Rock 'n' Roll's Sinead Cusak will be the one to beat for her superb performances in two roles: the Cambridge classics professor and Max's wife, Eleanor, in the first act; and their middle-aged daughter, Esme, in the second. The actress' flinty intelligence and steadfast middle-class Englishness as Eleanor are as memorably true and alive as her perfect portrait of the coping, still romantic Esme—the former hippy who had a teen crush on Jan at Cambridge. In each contrasting role, Ms. Cusak captures the melancholy essence of time passing.
And in another fine, zinging speech from Mr. Stoppard, the "uncageable" Eleanor, battling cancer, blazes on behalf of her unbeaten, grieving soul in severe reprimand to Max's cold materialism:
"They've cut, cauterized and zapped away my breasts, my ovaries, half my bowel and a nutmeg out of my brain, and I am undiminished, I'm exactly who I've always been, I am not my body. My body is nothing without me, that's the truth of it. Look at it, what's left of it" she cries to the uncomprehending Max, tearing open her dress.