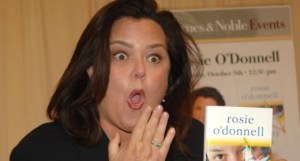 After several shouting matches, cat fights with The Donald and an exodus from The View last spring, Rosie O'Donnell may return to talk TV with MSNBC, according to The New York Times.
During the nine months she spent on "The View" before departing abruptly last spring, Ms. O'Donnell raised viewership notably. She did so while lamenting the unabated casualties of the Iraq war and advocating the right to gay marriage, among other positions.
Under one option, Ms. O'Donnell would take the 9 p.m. slot each weeknight on MSNBC, pitting her against "Larry King Live" on CNN and "Hannity & Colmes" on Fox News.