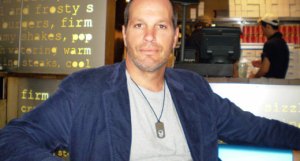 Location: Your new Pop Burger outpost, scheduled to open later this month on 58th Street near Fifth Avenue, will span three floors and about 8,000 square feet. That's a big burger joint—maybe not Times Square-McDonald's big—but pretty frickin' big.
Mr. Liebenthal: I originally wanted to take one floor. But the landlord told me, 'If you don't take the whole building, you can't open a burger joint in my building.' I said, 'I'll take the whole thing.' As the scale of it grew, it became more and more exciting because we were able to emphasize brand identity by having the entire facade.
About the facade: All the globular windows sort of remind me of those on a submarine.
The idea was to almost blow bubbles up the building. It's evocative of a toy. We wanted it to be very fun and playful.
Fitting for a place across the street from FAO Schwartz.
The stainless steel [storefront] also fits in nicely with Bergdorf Goodman [next door]. To be facing the Plaza, the Apple store, and FAO Schwartz, and to have my brand there, is incredibly exciting. I want to see this whole area littered with Pop Burger boxes.
Tell us about what we'll see inside. How will this be different from the original Pop Burger in the meatpacking district?
The takeout counter [on the first floor] is fully complete. It's its own entity. It has a separate entrance. Then the bar and restaurant [upper floors] has its own entrance.
Why the separate entrances?
For uptown, it lays out better for the crowd that will come there. I think people downtown at first were a little like, 'What is this place?' When you're paying the kind of rent we're going to be paying uptown, we don't have much time for people to figure it out.
What kind of rent will you be paying?
We're right off Fifth Avenue. The rent is significant.
Were you eyeballing the Fifth Avenue area specifically for your next location?
A friend of mine had walked by—he's a real-estate developer—he told me he thought that would be a great location for me. I went up and took a look. I thought, Wow. I knew that financially it would be a very aggressive project. But I thought it was a great idea.
How financially aggressive? What sort of total investment are we talking about with rent and renovations?
Is the word 'significant' fair to say?
Ballpark?
More than $3 million and less than $5 million.
Meatpacking is a pretty trendy part of town; Fifth Avenue, maybe not so much. Is this pop-arty fast-food-meets-nightclub concept gonna fly up there?
I sure hope so. When I see the success of Abercrombie & Fitch, which is basically a dark nightclub that has retail in it, and how people react to it, that tells me the timing is right to have Pop Burger in that type of real estate.
A lot of what you see [at the original Pop Burger] is a riff on contemporary American art. The light wall [at the takeout counter] pays homage to the contemporary text artist Edward Ruscha. The red metal ceiling sort of pays its roots to Donald Judd. Our pool room is spray-painted with silver aluminum car paint, which Andy Warhol used in his '63 Elvis paintings.
You're big on Warhol.
Warhol is my favorite artist. What I liked about him was, he was all about commercial consumption and the ordinary object. It wasn't only for the intellectual financial elites. That's what I find exciting about Pop Burger, is creating a product that everybody across cultures—depending on where their finances are—everybody likes Pop Burger.