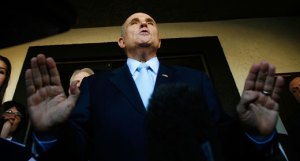 Rudy Giuliani's campaign manager used a conference call with reporters this week to set the bar as low as possible for his candidate, arguing that the former mayor can still claim the G.O.P. nomination even if he loses the first three big states on the primary calendar: Iowa, New Hampshire and South Carolina.
So far, the ploy is a smashing success. The media has largely taken the bait, playing down Mr. Giuliani's standing in those states (and wondering if he's even going to compete in them), thereby positioning him to claim a major public relations victory should he win—or even come close to winning—any of them. Moreover, the coverage only ratchets up the pressure on Mitt Romney, who has spent heavily in the three early states, to post big wins in all of them—Iowa and New Hampshire in particular.
In reality, the Giuliani campaign's nomination roadmap depends heavily on the first three states.
Start with Iowa, where the caucuses are now 50 days away. It's true that Mr. Giuliani has largely abandoned campaigning in the state, and it's doubtful he'll invest much personal time or money in the remaining two months. But the objective in Iowa for Mr. Giuliani is not to win, or even to compete for the top spot. The goal is to do everything possible to create unreasonable expectations for Mitt Romney, who has spent like Steve Forbes in the state and who has led in almost every Iowa poll conducted this year.
The Giuliani campaign realizes that Mr. Romney—much more than Fred Thompson and John McCain, the two other supposed G.O.P. front-runners—represents the most serious threat. Mr. Romney—who, for the first time this campaign, moved into the top two in a national poll by American Research Group released on Wednesday—is banking on notching breakout wins in Iowa and New Hampshire and rolling the ensuing momentum into South Carolina, back-to-back-to-back victories that will allow him to supplant Mr. Giuliani as the front-runner and "inevitable" choice heading into the pivotal February 5 mega-primary. Mr. Romney has backed his strategy with tens of millions of dollars, pouring it into a sleek national campaign, a well-honed ground operation, and a ceaseless barrage of television ads in the early states.
For Mr. Giuliani, stopping Mr. Romney starts in Iowa. And that makes Mike Huckabee Mr. Giuliani's best friend for the next two months. The former Arkansas governor and Baptist preacher lacks Mr. Romney's limitless budget, but he is a perfect cultural and stylistic fit for the state. And Iowans are taking note: A startling CBS News/New York Times poll released this week has Mr. Huckabee, an asterisk just few months ago, within six points of Mr. Romney, trailing just 27 to 21 percent. Moreover, the poll found that a whopping two-third of Romney supporters were wavering, compared with sonly 50 percent of Mr. Huckabee's.
A Romney loss in Iowa—or a narrow victory that is interpreted by the media as a loss—is a Giuliani win, even if the former mayor only takes 10 percent of the vote. That's because Mr. Romney, rather than riding into New Hampshire on a wave of confidence, would instead be deluged with questions about his viability (and endless mentions of how many dollars he spent per vote that he received in Iowa). Mr. Giuliani, who right now trails Mr. Romney by about 15 points in New Hampshire, would be in position to pounce. Unlike Iowa, he has maintained a busy schedule of personal appearances in New Hampshire and this week unveiled a major television ad buy on the state's lone network affiliate (plus the Boston stations that serve southern New Hampshire). These are not the actions of a candidate who's writing a state off.
Romney losses in Iowa and New Hampshire would all but kill him off, while the effect of a Giuliani victory would be amplified by the work his campaign has done to lower expectations. With a jolt of momentum propelling him, he'd only need to beat back an insurgent Mr. Huckabee in South Carolina and a Thompson campaign that—after invisible showings in Iowa and New Hampshire—would be a shadow of its former self. From there, Mr. Giuliani would be the prohibitive favorite across the board on February 5.
All of this, of course, hinges on Mr. Romney tripping up in Iowa. But if he doesn't—if he wins a thumping victory in the lead-off state—then the Giuliani roadmap changes dramatically. Mr. Romney would be the odds-on favorite in New Hampshire, and Mr. Giuliani would have to wait until South Carolina for a realistic shot at stunting his rival's momentum.
If Mr. Giuliani can retain his viability heading into February 5, the ground figures to shift in his favor. His campaign is probably right: He doesn't have to win the first three contests to get there. He just needs to make sure Mitt Romney doesn't win all of them.