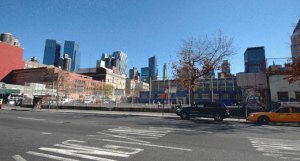 Condos will soon replace a storied Hell's Kitchen recording studio as Sony sold it last week for $44 million to a partnership of Jamestown Properties and Alchemy Properties.
The sale of the recording studio complex at 447-453 West 53rd Street, 450 West 54th Street and 452-460 West 54th Street—reportedly home to the filming of Miracle on 34th Street and On the Waterfront—and the planned 96-unit, 130,000-square-foot condo to take its place tell a tale both of the rising real estate market and the declining music recording industry. Sony put about $40 million into new equipment at one of the buildings almost 15 years ago, according to a 1993 article in The New York Times, but the growing demand for luxury condos—yes, in Hell's Kitchen—coupled with society's waning desire to pay for its music all but sealed the fate of the site.
"Demolition is most likely going to start immediately," said Jeffrey Schwartz, an attorney at Wolf Haldenstein Adler Freeman & Herz, who represented the buyers on the deal. "This area is up and coming."
Mr. Schwartz was joined in representation by Raphael Tawil of Wolf Haldenstein, and Andrew Charles and Joseph Bartlett of the law firm King & Spalding. Sony was represented by the Paul Hastings law firm.