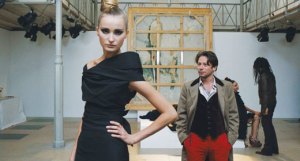 THE DIVING BELL AND THE BUTTERFLY
Running Time 112 minutes
Directed by Julian Schnabel
Written by Ronald Harwood
Starring Mathieu Amalric, Emmanuelle Seigner, Anne Consigny, Max von Sydow
Julian Schnabel's The Diving Bell and the Butterfly, from a screenplay by Ronald Harwood, based on the memoir by Jean-Dominique Bauby, unfolds as an astonishingly lyrical and profoundly moving account of a real-life hero's being imprisoned within his own body, and trying laboriously to communicate with the outside world, a seemingly impossible subject for a motion picture. The bon vivant Bauby was the well-known editor of the leading French fashion magazine Elle; the father of three loving children, whose mother was his discarded mistress; the new lover of a dazzingly beautiful woman; and the son of a proud, aging father, when, at the age of 43, he was paralyzed by a stroke that left him comatose. When he awoke from his coma, he was told by a neurosurgeon that he was the victim of a very rare affliction known as "locked-in syndrome," in which every part of his body was paralyzed except for his brain and his left eye, through which he could see the outside world, and communicate with the people in it by fluttering his eyelid, one wink for yes, and two winks for no.
The challenges for both Mr. Schnabel and Mr. Harwood were apparent from the start. How much time do you spend on the constricted point of view of Bauby, who died a few days before his painstakingly written (or, rather, blinked out, letter by letter) memoir was published in 1997? And how much time do you devote to the reenactment of his memories and fantasies?
In this respect, Mr. Schnabel's camera, wielded imaginatively by Janusz Kaminski, seems to make love to the wide array of attractive women, who, in one ravishing close-up after another, enable Bauby (or Jean-Do, as he was known to his intimates) to make contact with the outside world, from which his sickness otherwise excluded him. The comparatively few glimpses we get of Bauby himself are painfully grotesque.
Another problem Mr. Schnabel and Mr. Harwood faced was that they are both Anglophones, and Mr. Schnabel had decided that the story was too quintessentially French to be made in any other language. The early suggestions that Johnny Depp be considered for the lead role were thereby quickly rejected. The very versatile French actor Mathieu Amalric was chosen instead. Yet he and the rest of the almost all-French cast were virtually compelled to improvise their lines from the English-language Harwood script, but only after Mr. Schnabel himself brushed up on his self-confessed fragile French.
The results of all this interlingual collaboration are nothing short of spectacular, as The Diving Bell and the Butterfly makes a strong bid to be the best foreign-language picture of the year, if not, flatly, the best picture in any language.
Mr. Amalric's Jean-Do, both before and after his medical misfortune, rides the crest of a singularly impressive career as an often chastened enfant terrible. But never before in my memory has any screen character, fictional or nonfictional, displayed such extraordinary resilience from such a dire, almost-worse-than-death fate. Writers, particularly, with their comparatively petulantly frivolous complaints about writer's block, have to be moved and shamed by the spectacle of Jean-Do's taking 14 months to convey to his "editorial assistant" letter by recited letter, the coherent prose of his now world-famous memoir.
Mr. Amalric is ably assisted by Emmanuelle Seigner as his loyal though scorned mistress, Céline, and the conscientiously fair-minded mother of his children; Marie-Josée Croze as Henriette and Olatz Lopez Garmendia as Marie, the two nurses who devise the alphabet board that helps the patient record the output of his feverish mind; and Anne Consigny as Claude, his beautiful young editorial assistant. It makes sense to surround a onetime connoisseur of femininity with ravishing women to inspire his imagination.
Also memorable are Agathe de La Fontaine as Inès, his former beloved who lost him ironically in a joint visit to Lourdes on a purely touristy impulse on his part, and Marina Hinds as Josephine, a fantasy character in period costume dress, who invades his dreams as a past patroness of his hospital.
Perhaps the most striking of all the supporting cast is the venerably Bergmanesque Max von Sydow, who cries over his intensified fears of death magnified by his son's frightful malady; and Niels Arestrup as Roussin, a man to whom Jean-Do gave his seat on an airliner that was hijacked to Beirut, where Roussin was imprisoned for several months. Jean-Do still regrets not calling Roussin after he was released, and thus serves to remind us all in an uncanny way of moral tasks we have left undone.
Other cast members deserving mention are Patrick Chesnais as Dr. Lepage; the late Jean-Pierre Cassel in the dual roles of Father Lucien and a Lourdes shopkeeper; Gérard Watkins as Dr. Cocheton; Théo Sampaio, Fiorella Campanella, and Talina Boyaci as Jean-Do's three children, Théophile, Céleste and Hortense; and Isaach De Bankolé as Jean-Do's closest friend, Laurent.
I know The Diving Bell and the Butterfly doesn't sound exactly like cheery holiday entertainment, and it isn't, but it manages to be enthralling just the same. It is also a real treat to the eyes with its many watery images inspired by Jean-Do's coinage of his own plight as that of a butterfly trapped in a diving bell. Conscious life itself, even at its most extremely limited parameters, has never been so richly ennobled on the screen as it is here.