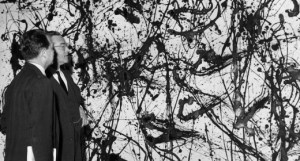 Nevermind the Pollocks! A bunch of paintings discovered in 2005 were thought to be crafted by Jackson Pollock, but aren't authentic, according to a forensic scientist who made the announcement yesterday in Manhattan.
He discovered last fall that many of the 32 works contained paints and materials that were not available until after Mr. Pollock's death in 1956. Alex Matter, the owner of the paintings, was sure to keep him quiet about it for the past year, though.
At least one was painted on a board that was not produced earlier than the late 1970s or early '80s, said the scientist, James Martin, in a lecture last night sponsored by the International Foundation for Art Research in Manhattan.
Mr. Martin was commissioned to examine the paintings in 2005 by their owner, Alex Matter, the son of Herbert and Mercedes Matter, artists who were friends of Pollock's. Mr. Matter has said he found the paintings, made in Pollock's signature drip style, in 2002 or 2003 in a Long Island storage container that had belonged to his father.
Although Mr. Martin, who is based in Williamstown, Mass., completed the analysis last fall, he has said he did not release it earlier because Mr. Matter's lawyer told him he would face a lawsuit if he did so. It is unclear why he chose to go public now.
Mr. Matter's lawyer, Jeremy Epstein, has denied threatening Mr. Martin, but he has said that he did tell Mr. Martin he was not authorized to release the report because Mr. Matter, who has sold some of the paintings, did not feel it was complete.
…
Since their discovery was reported in 2005, the paintings have been the subject of an intense scientific and scholarly debate that has drawn attention to the growing role of technology in questions that were once the sole province of connoisseurs.