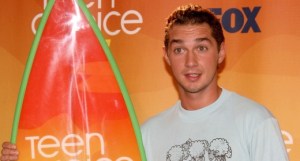 Pitchfork points us to an article in the December issue of SPIN Magazine that includes an interview with overhyped youngster Shia LeBeouf. Apparently he'll be dropping the cutesty Tom Hanks' Mini Me act and star in a biopic about West Coast rapper Cage.
Yep, you read right. LaBeouf is looking to play Def Jux rapper Cage, aka Chris Palko, in a forthcoming film about the MC's life, according to an article in the December issue of SPIN. "I have been listening to Cage since I got into hip-hop when I was 12," LaBeouf said. "I grew up on the West Coast listening to a lot of 2Pac and Eazy-E, so when I found out that Cage was white, it was incredible. I'd never heard anything like that."
…
As Tom Breihan wrote in the Pitchfork review of Cage's 2005 album Hell's Winter, "Cage has the kind of life story most aspiring new-schoolers just lie and make up. He was abused by his dishonorably-discharged junky father and his stepfather, kicked out of high school, overmedicated in a mental hospital, became a white-rap wunderkind in the early 90s, almost put out an album on Columbia, kicked around the major label system, got hooked on drugs, had a kid, got dissed on the first Eminem album, and found himself a home in underground rap." Sounds like a promising story arc to us.
Talking to SPIN, LaBeouf made it clear that this will be a chance for him to subvert Hollywood's expectations of him as a squeaky clean boy next door, saying, "It's kind of like how no matter what film De Niro was making, he was always ready to pull Raging Bull out of his back pocket. Cage is my Jake LaMotta." It seems the movie will also allow LaBeouf to explore themes of delusion and overstatement.