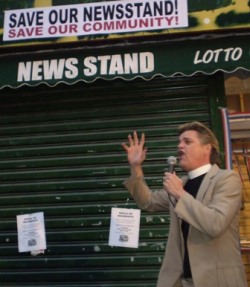 "CAN AH GETTA SHAIKH-ALLUJAH?!?!"
No, Astor Place isn't getting another Starbucks. Yet.
Actually, the Reverend Billy and his "Church of Stop Shopping" choir were rallying yesterday in support of a retailer: the longstanding Thompson Newsstand near the corner of Thompson and West 3rd streets.
'Twas a protest a whole 10 months in the making. The city shuttered brothers Afzal and Altab Shaikh's tiny newsstand last December, citing new rules about clearance from the curb and the fire escape directly above it.
"Well, it's still under the fire escape, only closed. Does that make any sense?" said neighbor Stacy Kaufman. "It is simply absurd to leave the newsstand there but empty."
Neighbors credit the 80-year-old newsstand, which had stayed open into the wee hours, for being "the eyes and ears of the street." "They were like our sentry on the block!" One resident claimed he was recently mugged while the newsstand was closed.
"That car is being stolen!" joked state SenatorTom Duane, one of many local politicos calling for the Department of Consumer Affairs to re-open the newsstand, as a car-alarm went off nearby.
"Listen, for villagers to be willing to allow a part of sidewalk to continue to be taken up is huge," Senator Duane told The Observer. "Frankly, I spent a lot more time fighting newsstands and sidewalk cafes, so it's a pleasure to be able to fight to keep something on the sidewalk for a change."