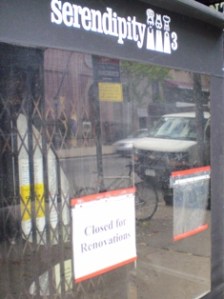 First, it was the "water leak in the kitchen" voice message. Now, it's a "Closed for Renovations" sign.
Given all the buzz in the papers (here, here, here …) and on TV (here, here, here …) about the mice and cockroaches, does Serendipity 3 honcho Steven Bruce really think he can fool anyone with this deceptive signage?
Won't people just look beyond the simple white sheet of paper and notice those glaring yellow "CLOSED BY ORDER OF THE COMMISSIONER OF HEALTH AND MENTAL HYGIENE" stickers in the background?
Random passer-by at 2:32 p.m. on Friday: "Awwww! Closed for renovations? That sucks!"
Guess there's something to this oft-used restaurateuring strategy after all.