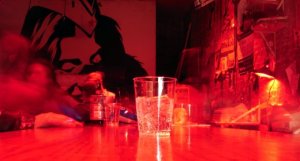 Tracy Westmoreland, the boisterous actor and owner of recently-shuttered New York dive bar Siberia, just told us, exclusively, that he is going to reopen the beloved watering hole.
"Siberia has been the engine of all my good luck, so we're going to restart the engine," said Mr. Westmoreland today. He also told us that he thinks the club will remain in the same dank, subterranean space on 40th Street and Ninth Ave., but whatever happens, it will definitely be in Hell's Kitchen. "We're not straying from our roots. Siberia's always been in Hell's Kitchen and it works. There have been some shit holes in Hell's Kitchen, and that's basically what we're looking for."
Since the nightspot—which over the years reportedly hosted people like Ed Koch, David Dinkins, Robert Morgenthau, Matt Dillon, Julia Stiles, Jimmy Fallon, Heather Graham, Lou Dobbs and Winona Ryder— closed last winter, Mr. Westmoreland has been keeping very busy. He said he now works as a bouncer at The Ritz, the well-known gay bar on 46th Street. (This gig is, of course, somewhat old-hat for Mr. Westmoreland, who was once the director of security for Studio 54.) Aside from a few awkward run-ins with old friends who mistakenly think he's been locked in the closet all these years, he said that the job is pretty great. "It's fucking slammed, and everybody's really, really nice. The worst thing that's happened was there was a pocket book fight once," he chuckled.
Mr. Westmoreland hasn't forgotten about his acting career, either. He's been in a few recent films, namely, Julie Taymor's Across the Universe; he also has a role in a forthcoming feature called Never Down, which curiously co-stars the late writer Kurt Vonnegut. It was filmed a few months before his death last April. What's more, he's appeared on Fox News a few times as the "nightlife commentator" for Greg Gutfeld's late-night show, Red Eye. (Click here to see a clip.)
The idea to re-open Siberia, Mr. Westmoreland told The Daily Transom, came to him during a recent conversation with Scott Talbot, the New York proprietor who has hired him to be the "minister of propaganda" for his new concept nightclub-restaurant, which will occupy the space vacated by BED, to be called Charity. (Apparently, when paying the bill, customers will be able to donate to various charities, which will be listed on a menu.)
"People would come to me and say, 'Siberia was the best thing on earth, the greatest thing since apple pie,'" he recalled. "And I never really considered it, because it was open for eleven years straight. And now, I can't find a place I want to drink in, because they're all trying to be like Houlihan's—they're all trying to be corporate; they're all too clean. There's none of the freak stuff," he said with apparent regret, before mentioning the naughty act New York performer Mangina would come to do in his nightclub.
After the Siberia documentary made by Jack Bryan—the son of Anna Wintour's beaux, Shelby Bryan—is released, Mr. Westmoreland plans to publish a book, which he might call Siberia Confidential, out of respect, he said, for celebrity chef Tony Bourdain, a onetime regular at his club and the host of the show Kitchen Confidential. ("I could never do a tell-all, because I'm not a rat," he said of the book. "But I can do a tell-some!")
Asked if he thinks Siberia will still be a hit after it re-opens, the bearded bouncer said: "All the things people come to New York for—all that love, all that impromptu entertainment, that fuckin' creative stuff—they don't allow in bars anymore. They're trying to make money, so bad that nothing ever happens."