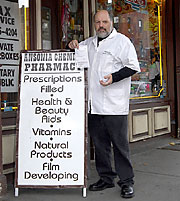 Retailers in the "cradle of tough guys" are under siege as authorities crack down on a rampant form of outdoor advertising, according to a report in this week's Brooklyn Paper:
Shops in Park Slope and Cobble Hill have been slapped with $100–$300 tickets over the last three weeks for the crime of obstructing the sidewalk with their A-frame, or sandwich board, signs.
Some wary shopkeepers are now flattening the offensive frames to keep from violating the city's three-feet-from-the-storefront rule, according to the report.
"It's kind of ridiculous," said one employee of a recently ticketed shop. "It looks like they were just going up the street giving out tickets."