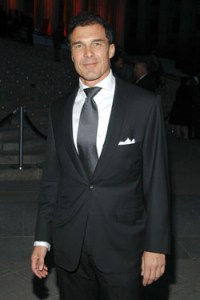 André Balazs, the short and well-tanned hotelier, Uma Thurman ex-boyfriend and now hip condo developer, has had a good year.
Over the summer, he reportedly sold the penthouse at William Beaver House, his new bronze-colored 47-story condo, for $4.7 million, the highest price per square foot ever paid in the Financial District.
But Mr. Balazs told The Observer on Monday that he's now beaten that price, selling the 47th floor's A and B apartments for $5 million. The buyer, according to another source, is a wealthy Scandinavian financier.
Considering that the area has never been quite residential, does this count as the most expensive Financial District apartment deal?
"I think it is the single biggest sale for a unit down there," Mr. Balazs said. On the other hand, according to appraiser Jonathan Miller, penthouses at 150 Nassau Street and Riverhouse have sold for about $7 million each (though neither are technically in the Wall Street area), and three neighboring apartments at Downtown by Philippe Starck on Broad Street went for nearly $8.1 million, though they were bought separately.
But only this condo—at 15 William Street, at the corner of Beaver—has so perfected the art of selling itself as a young, sexy clubhouse. There's a dance lounge with a wet bar, and there's a glass-bottomed Jacuzzi; even the building's mascot, a grinning beaver, holds a martini.
Mr. Balazs doesn't think he went overboard with the condo's euphemistic name and logo. "First off, not many people get—focus on that. It's utter descriptiveness," he said, meaning that "Beaver" refers simply to the address. "We like beavers, they're very industrious creatures. And, frankly, they're such an important part of New York."
He said the Astor family crest has a beaver on it (though that couldn't be confirmed). "Beavers are a very venerable, important animal to New York. I say that with a straight face."