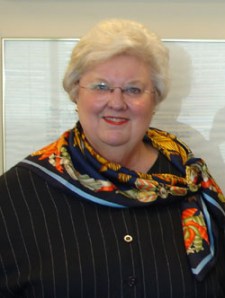 Back in August, Dow Jones and News Corp announced the names of five elderly appointees to the board that will oversee the editorial independence of The Wall Street Journal—a body established in response to Rupert Murdoch's takeover. A month later, one of those appointees, former Republican Congresswoman Jennifer Dunn, died. The group hadn't even met, and it was already down one.
Now, with Mr. Murdoch set to take over in just a few weeks, Dow Jones and News Corp have nailed down a replacement: Susan Phillips, a 63-year-old dean of the business school at George Washington University, who was appointed to the Federal Reserve Board by President George H. W. Bush in 1991, and served there until 1998. Since the group isn't officially active yet, Dow Jones made the selection of Ms. Phillips; in the future, the group's members will decide on replacements.
Ms. Phillips, who did not respond to a request for comment, will join four men—Tom Bray, Louis Boccardi, Jack Fuller and Nicholas Negroponte. Three of them have journalism in their blood: Mr. Bray, who will serve as the committee's chair, is the former editorial page director of the Detroit News; Mr. Boccardi was the head of the Associated Press, and Mr. Fuller served as editorial page director of the Chicago Tribune. Mr. Negroponte, the younger brother of Deputy Secretary of State John Negroponte, is an architect and computer scientist.
The first item on the agenda at the board's inaugural meeting next week in Manhattan, Mr. Boccardi told Off the Record, will be simply to agree on the board's role, and how it will carry it out.
Indeed, many details remain up in the air. At the time Dow Jones accepted News Corp.'s buyout bid, guidelines for the board were filed with the S.E.C., but they were decidedly vague. For instance, the special committee will have "approval rights" over the appointment of the managing editor and editorial page editor. But in practice, will it really have the authority to thwart News Corp.'s choice? The board will have "final say" over disputes, but how will those disputes be identified? And will the board's votes have to be unanimous?
"We'll discuss those things when we get together," said Mr. Boccardi.
The group is required to meet four times a year, with each member given a yearly salary of $100,000, according to S.E.C. filings. When disputes arise that touch on the paper's editorial independence, the board will be able to have their say in the op-ed section of The Journal, or, failing approval by the editorial page editor, in a "prominent location" in the paper.
Since the Bancrofts accepted Mr. Murdoch's bid, the Journal newsroom has been dubious about the level of influence the board will exert.
"People think it's a joke," said one reporter. "The only people who don't think it's a joke are the people who invented it."
"We were never consulted on a new hire," added another. "Shouldn't they be interested in what we have to say?"
Asked if he thought the group would have any muscle, Mr. Boccardi said, "Talk to me in a year."