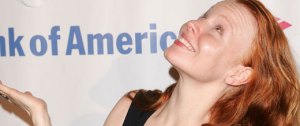 It's hasn't been a good couple of months for Michelle Williams. First, she breaks up with Heath Ledger. Now, Spike Jonze is kicking her off of Where the Wild Things Are for Lauren Ambrose, the redhead who recently received rave reviews for her turn as Juliet in the Shakespeare in the Park production of Romeo and Juliet.
Ambrose is replacing the previously cast Michelle Williams. According to a production source, the filmmakers enjoyed working with Williams, but her voice didn't match their original vision of how the Wild Thing should sound.
Jonze and Dave Eggers wrote the screenplay adaptation of the book. The film, set for release in fall 2008, will use real actors, computer animation and live-action puppeteering.