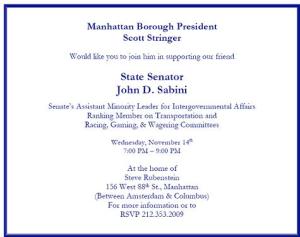 Here's an invitation to a November 14 fund-raiser for state Senator John Sabini of Queens, which is being organized by Scott Stringer, the Manhattan Borough President.
Sabini is in a safely Democratic seat in Jackson Heights, Queens, but he may face a strong challenge from the Democratic City Councilman who almost beat him in a previous race, Hiram Monserrate.
For Stringer, the benefits of making friends outside Manhattan could pay off if and when he decides to seek higher office.