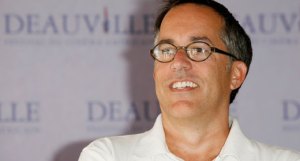 The Sundance Film Festival, long-time epicenter of independent film, announced today that it will unspool a whopping 87 world premieres in its 31st running. "This year, a lot of people came out of the woodwork. A lot of the directors are ones we didn't even know about," John Cooper, the festival's director of programming, told Variety. Of the the 121 feature-length films selected for competition, 51 were made by first-time filmmakers, a bunch of Jason Reitman manques from the sound of it. "Since the world seems a little dark to people, they've turned to comedy, although comedy with a dark turn to it," said Mr. Cooper.
DRAMATIC COMPETITION
"American Son," directed by Neil Abramson ("Without Air") and written by Eric Schmid, about a young Marine's four-day leave at home in Bakersfield, Calif., and his attempt at a romance before being sent into active duty. With Nick Cannon, Melonie Diaz, Matt O'Leary, Jay Hernandez, Tom Sizemore and Chi McBride.
"Anywhere, U.S.A.," directed by and starring Anthony (Chusy) Haney-Jardine and written by Haney-Jardine and Jennifer Macdonald, an experimental, three-part feature about manners, prejudices and family dynamics.
"Ballast," directed and written by Lance Hammer, a lyrical look at the effect of a tragedy on an impoverished family in the Mississippi Delta. Features Michael J. Smith Sr., Jim Myron Ross, Tarra Riggs and Johnny McPhail.
"Choke," directed and written by Clark Gregg, a raw mother-son comedy starring Sam Rockwell, Anjelica Huston, Kelly Macdonald and Brad Henke and based on a novel by Chuck Palahniuk ("Fight Club").
"Downloading Nancy," directed by Johan Renck and written by Pamela Cuming and Lee Ross, a very dark study of a terminally unhappy woman's tortured love affair that stars Maria Bello, Jason Patric, Rufus Sewell and Amy Brenneman.
"Frozen River," directed and written by Courtney Hunt and starring Melissa Leo as a woman on New York's Mohawk Reservation who takes up illegal-immigrant smuggling to survive. With Misty Upham, Charlie McDermott, Michael O'Keefe and Mark Boone Jr.
"Good Dick," directed, written by and starring Marianna Palka as a vulnerable young woman drawn into a relationship with a videostore clerk. Also features Jason Ritter, Tom Arnold, Mark Webber, Martin Starr and Eric Edelstein.
"The Last Word," directed and written by Geoff Haley, an irreverent romantic comedy centering on a reclusive writer-for-hire of suicide notes. Stars Winona Ryder, Wes Bentley and Ray Romano. A ThinkFilm release.
"The Mysteries of Pittsburgh," directed and written by Rawson Thurber ("Dodgeball"), an adaptation of Michael Chabon's first novel, concerning sexual exploration and a tense father-son relationship. With Jon Foster, Peter Sarsgaard, Sienna Miller, Mena Suvari and Nick Nolte.
"North Starr," directed and written by Matthew Stanton, about a young black Houston man who, after witnessing his best friend's murder, moves to a backward rural town. Features Jerome Hawkins, Stanton, Chris Sullivan, Isaac Lamb, Zach Johnson and Wayne Campbell.
"Phoebe in Wonderland," directed and written by Daniel Barnz, an unusual coming-of-age tale about a girl (Elle Fanning) who takes her dysfunctional family on an unexpected journey. With Felicity Huffman, Patricia Clarkson, Bill Pullman, Campbell Scott and Peter Gerety.
"Pretty Bird," directed and written by Paul Schneider, an archetypal American story about three entrepreneurs whose partnership goes awry in very nasty ways. Stars Billy Crudup, Paul Giamatti, Kristen Wiig and David Hornsby.
"Sleep Dealer," directed by Alex Rivera and written by Rivera and David Riker, a social commentary-infused sci-fier about three strangers who attempt to break through future technological barriers to connect in a world of closed borders and virtual labor.
"Sugar," directed and written by Anna Boden and Ryan Fleck, the co-writer and writer-director, respectively, of "Half Nelson," with Algenis Perez Soto as a Dominican baseball star recruited to play in the U.S. minor leagues.
"Sunshine Cleaning," directed by Christine Jeffs ("Sylvia," "Rain") and written by Megan Holley, starring Amy Adams and Emily Blunt as sisters who try to climb out of poverty by working in biohazard removal and crime scene clean-up. Also with Steve Zahn, Alan Arkin, Amy Redford and Clifton Collins Jr.
"The Wackness," directed and written by Jonathan Levine ("All the Boys Love Mandy Lane"), a comedy about a teen drug dealer (Josh Peck) who falls for the daughter of his drug-taking shrink (Ben Kingsley). Also features Famke Janssen, Olivia Thirlby, Mary Kate Olsen and Method Man.
DOCUMENTARY COMPETITION
"An American Soldier," directed and written by Edet Belzberg ("Children Underground"), a look at one of the U.S. Army's all-time top recruiters, Sgt. 1st Class Clay Usie.
"American Teen," directed and written by Nanette Burstein ("On the Ropes"), an irreverent, frank account of four Indiana high school seniors.
"Bigger, Faster, Stronger," directed by Christopher Bell and written by Bell, Alexander Buono and Tamsin Rawady, about three brothers, one of whom is the filmmaker, who use steroids.
"Fields of Fuel," directed and written by Josh Tickell, who also appears as a man who takes on "big oil, big government and big soy" as he proselytizes for energy alternatives.
"Flow: For Love of Water," directed by Irena Salina, confronts the possibility that Earth's supply of this essential liquid is dwindling.
"Gonzo: The Life and Work of Dr. Hunter S. Thompson," directed by Alex Gibney ("Enron: The Smartest Guys in the Room"), a look at the late author's prime period of 1965-75 via previously unavailable homemovies, audio recordings and unpublished manuscripts.
"The Greatest Silence: Rape in the Congo," directed and written by Lisa F. Jackson, who traveled to the war zones of the Congo to record the struggles and testimonies of rape survivors.
"I.O.U.S.A.," directed by Patrick Creadon ("Wordplay"), an examination of the United States' precarious financial condition that also advances ideas to avoid national economic disaster.
"Nerakhoon" (The Betrayal), directed and written by Ellen Kuras and Thavisouk Phrasavath, the culmination of a 20-year project to portray the struggle of the latter's family to survive the impact of U.S. foreign policy in Laos and to understand his father's involvement in the war.
"The Order of Myths," directed and written by Margaret Brown, about the 2007 Mardi Gras in Mobile, Ala., where the event remains segregated.
"Patti Smith: Dream of Life," directed and written by
Steven Sebring, a 12-year project that offers an intimate portrait of the poet-musician.
"Roman Polanski: Wanted and Desired," directed and written by Marina Zenovich, focusing on the particulars of the director's decision to flee his legal problems in the U.S.
"Secrecy," directed by Peter Galison and Robb Moss, an investigation of the world of government secrecy.
"Slingshot Hip Hop," directed by Jackie Reem Salloum, a look at Palestinian rappers.
"Traces of the Trade," directed by Katrina Browne, co-directed by Alla Kovgan and Jude Ray, written by Browne and Kovgan, a fresh look at personal history by descendants of the largest slave-trading family in America.
"Trouble the Water," directed by Tia Lessin and Carl Deal, incorporates the video diary of a young couple and family who struggled to survive the New Orleans flooding and post-Katrina despair and difficulty.
WORLD CINEMA DRAMATIC COMPETITION
There were 983 submissions from 15 countries in this category.
"Absurdistan" (Germany), directed by Veit Helmer, written by Helmer, Zaza Buadze, Gordan Mihic and Ahmet Golbol, about a sex strike by village women that threatens a young couple's first night together.
"Blue Eyelids" (Mexico), directed by Ernesto Contreras, about the ramifications of a single woman's winning of a beach trip for two.
"Captain Abu Raed" (Jordan), directed and written by Amin Matalqa, concerning an aging airport janitor who relates tall tales to local kids who think he's a pilot.
"The Drummer" (Hong Kong), directed and written by Kenneth Bi, the story of a young man who matures from reckless gangster to serious grownup due to the influence of Zen drumming.
"Elite Squad" (Brazil), directed by Jose Padilha ("Bus 174") and written by Braulio Mantovani and Padilha, which focuses on a special crime unit's war against drug dealers in the run-up to the Pope's visit to Rio. A Weinstein Co. release.
"I Always Wanted to Be a Gangster" (France), directed and written by Samuel Benchetrit, which consists of four episodes in which aspiring hoods discover whether they're up to a life of crime. With Sergi Lopez and Jean Rochefort.
"Just Another Love Story" (Denmark), directed and written by Ole Bornedal ("Nightwatch"), about the unanticipated effects on a family man after an auto accident causes a young woman to suffer from amnesia.
"King of Ping Pong" (Sweden), directed and written by Jens Jonsson, which pivots on an acrimonious relationship between two young brothers.
"Megane" (Glasses) (Japan), directed and written by Naoko Ogigami, a Zen comedy depicting a life-change occasioned by a vacation at an odd beach community.
"Mermaid" (Russia), directed and written by Anna Melikyan, about a girl whose ability to make wishes come true hits reality when she goes to Moscow as a young woman.
"Perro Come Perro" (Dog Eat Dog) (Colombia), directed by Carlos Moreno and written by Alonso Torres and Moreno, a crime drama about two hoods who sign their own death warrants when they bungle a job.
"Riprendimi" (Good Morning Heartache) (Italy), directed by Anna Negri and written by Negri and Giovanna Mori, centered on a married couple with a baby who are breaking up while a documentary is being made about them.
"Strangers" (Israel), directed and written by Erez Tadmor and Guy Nattiv, which depicts a love affair between an Israeli man and a Palestinian woman during the World Cup finals in Germany.
"Under the Bombs" (Lebanon), directed by Philippe Aractingi and written by Aractingi and Michel Leviant, about a woman who engages a taxi driver to drive her through areas just bombed by Israel in 2006 in search of her sister and son.
"The Wave" (Germany), directed by Dennis Gansel and written by Gansel and Peter Thorwarth, a look at the unintended consequences of a high school teacher's experiment to demonstrate what life is like under a dictatorship.
"The Wind and the Water" (Panama), directed and written by a collective, concerning two very different encounters between an indigenous teenage boy new to Panama City and an alluring girl from a wealthy family.
WORLD CINEMA DOCUMENTARY COMPETITION
There were 620 submissions from 10 countries in this category.
"Alone in Four Walls" (Germany), directed and written by Alexandra Westmeier, which focuses on Russian teenage boys whose life confined to a rural home for delinquents might be preferable to freedom.
"The Art Star and the Sudanese Twins" (New Zealand), directed and written by Pietra Brettkelly, in which a woman's obsession to adopt Sudanese twin orphans raises many questions about Western attitudes concerning Africa.
"A Complete History of My Sexual Failures" (U.K.), directed by Chris Waitt and written by Waitt and Henry Trotter, in which the filmmaker consults the women in his life, past and present, to learn exactly how the opposite sex views him.
"Derek" (U.K.), directed by Isaac Julien, an artistic illumination of the life and work of the late British filmmaker Derek Jarman.
"Dinner With the President" (Pakistan), directed and written by Sabiha Sumar and Sachithanandam Sathananthan, an interview-driven report on the state of mind of Pakistanis.
"Durakovo: The Village of Fools" (France), directed and written by Nino Kirtadze, a look at Russian nationalism through the activities of a right-wing leader training initiates at a castle near Moscow.
"In Prison My Whole Life" (U.K.), directed by Marc Evans and written by Evans and William Francome, an investigation of American history and the justice system through the case of death row inmate Mumia Abu Jamal.
"Man on Wire" (U.K.), directed by James Marsh, looks back at the 1974 stunt in which a Frenchman danced on a wire suspended between New York's Twin Towers.
"Puujee" (Japan), directed and written by Kazuya Yamada, which concerns a Japanese photographer whose subject is a girl who tames wild horses on the Mongolian plains.
"Recycle" (Jordan), directed and written by Al Massad, about a man's struggle to support his family in the tense hometown of Muslim leader Al-Zarqawi.
"Stranded: I've Come From a Plane That Crashed on the Mountains" (France), directed and written by Gonzalo Arijon, in which survivors of the 1974 Andes plane crash tell their stories first-hand for the first time.
"Triage: Dr. James Orbinski's Humanitarian Dilemma" (Canada), directed by Patrick Reed, about former Doctors Without Borders head James Orbinski returning to Africa to assess the harsh conditions there and explore the meaning of humanitarian work.
"Up the Yangtze" (Canada), directed and written by Yung Chang, a portrait of a changing China through the experiences of young people from the Three Gorges Dam area who take jobs on a cruise ship.
"Women of Brukman" (Canada), directed and written by Isaac Isitan, an account of how poor workers who take over a Buenos Aires clothing factory adjust to becoming self-managers.
"Yasukuni" (Japan), directed and written by Li Ying, which probes the
controversy surrounding Japanese officials paying homage at the Yasukuni shrine, where swords used to kill Chinese were forged.