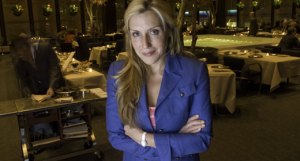 Last Wednesday, The Observer met epic broker Dolly Lenz, vice-chairman of Prudential Douglas Elliman, at Table No. 1 of the Pool Room in The Four Seasons, where she eats 20 times a month.
Co-owner Julian Niccolini brought over truffles, desert plates, wine and scotch, while Ms. Lenz waxed poetic. The full interview will be published in The Observer's print edition this week, but here are some morsels about Michael Shvo, jealousy, and $8,000 purses.
The Observer: According to rankings just printed in the Wall Street Journal, you did $748,319,000 in sales last year, the most in the nation–and four times higher than the second biggest broker. What explains that?
Ms. Lenz: I don't stop working. My 90-hour week, or 80-hour week, is everybody else's three weeks.
I'm very tenacious. If I think there's a reason for me to be there, I'm going to be there, and you're not going to be able to get rid of me. I live in the future, so I'm not living here and now and dealing with this deal right here and now, I'm living over there with all the things that could come up between what's happening now and what's happening three weeks from now. I'm overcoming all those obstacles today, so when you give me the obstacle I already know it, and I'm like boom, boom, boom, boom–playing a chess game, a three-dimensional chess game.
But I think it's mostly that I truly just work so much more. You know, most people in real estate don't work; it's not a job of workers.
Each week, how much time do you actually spend with your two teenage kids?
I would say I spend an hour with my daughter, and I would say I speak to my son 10 minutes a week.
It was reported that you made $7 million in 2005. What do you expect in commissions for 2007?
It's higher. It depends on when things close, because I have a very big deal that either closes in December or could push into January. I mean, it should be more than ten [million].
The Elliman broker Linda Stein was just murdered, allegedly by her assistant. You're so similar, with a big persona and reputation and client list. Do you fear that bad things will happen to you because of how outsized you are?
Never … I feel like I treat everybody 100 percent fairly, and I think at the end of the day that's all they really expect. You can piss somebody off; you can have a huge fight. But you know what? At the end of the day, you were in your corner, I was in my corner, and whatever happens, happens.
How many tirades have you had in the past year?
It depends on what the definition of a tirade is. I don't go through a lot of tirades, because I kind of just say: 'That's it. It's over, OK? Sorry, can't do that, goodbye.' So that's not a tirade, you know what I mean? I don't rise to the level of 'I'm going to have this fight with you,' because it's not interesting to me and I have nothing to gain from it.
You've had Donald Trump's $125 million Palm Beach estate, Maison de L'Amitie, on the market for well over a year, which is a long time. Will it sell soon?
The issue is that Donald feels it's truly worth $110, $115, $120 million–and the market's kind of said it is worth just under $100 [million]. So there's that disconnect that often happens, and nothing will happen until that disconnect is resolved.
Have you been getting worried about the city's real estate market?
Look, until August, I was able to get anybody a 90 percent mortgage, anybody breathing. If they had bad credit! As long as they had a job of some short, I was able to get them financing, no problem. Today it's already 20 to 25 percent down, big change. And now you need papers. I was able to get very high mortgages, percentage-wise, with no paperwork.
You were described in a book looking like a high school principal four years ago, but now you're one of the best looking brokers in New York City. How important is looking good and image to your job?
Yeah, it matters to the extent that you don't want to embarrass anybody. And I think that many people want to be with people like them, so, for example, if you don't have on a $6,000 suit, you're not like them; if you don't have on an $8,000 pocketbook, you're not like them.
You know, it's how people judge each other at the curb. Why would you not overcome that curb if you could?
Why do you come across as having an amazing ego?
An ego to me is about pumping themselves on the chest, and saying, 'Look what I did, look how great I am, I did this, I did that. It's about me.' It's not about me, at all, ever. It's about them, the buyer, the seller, the property.
The New York Post's real estate gossip Braden Keil has mentioned you in print 124 times in the past seven years. What's your relationship like?
He's a friend, he's somebody who takes the time to seek me out, which not everyone does, and–really it's 124 times?
Yes. I've heard he stayed at your Hamptons house?
I mean we've had dinner together there, maybe stayed a time or two, but not a regular stay.
Do you talk with Michael Shvo?
I never talk to him. But if I see him, it's not like I go the other way… 'Let's SHVO'? You've never seen the ad 'Let's SHVO'? Now that's an ego.
Does the success of his eponymous marketing and sales firm bother you late at night?
Never! There's an infinite amount of work. I think it goes inherently to who you are: I inherently am not a jealous person. I don't know how to be jealous, it's not my style. It either is you or it isn't you. I see people who are jealous and I say maybe it's a good thing, because it makes them covet, and if they covet maybe they get it. I don't covet.
Why don't you covet?
Because I'm just so busy doing 'it.' To covet you have to be outside 'it,' coveting. But it's really true. My kids will tell you that, it's really who I am.