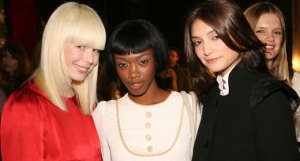 It's a big week for Erin Fetherston, 26-year-old fashion designer. On Thursday, Nov. 15, hours after moving from her design studio west of 10th Avenue into one in the Garment District, she'll put on a sparkly, short, diaphanous dress, go to a fancy gala, and find out whether she's won a $200,000 award from the Council of Fashion Designers (CFDA) and Vogue magazine. Four days later, her eponymous, limited-edition line will debut at Target, the chain store that has become an obligatory résumé entry for young would-be Gallianos.
Forget long years of anonymous apprenticeship in the shadow of a Donna Karan or Marc Jacobs—still the norm in Paris and Milan. Today's designers come to New York with the expectation of more immediate, personal success. And they are getting it.
The other day, Ms. Fetherston, a striking blonde with blunt-cut bangs, was seated on a fluffy white couch in the old studio, wearing a massive, chunky black vintage sweater and a pair of slim navy blue jeans from her Target line. "They're pretty good!" she said. "What I'm really excited for is just to see the clothes on people in the street. I think that's when I'm going to really kind of flip out."
Until now, Ms. Fetherston's light, ethereal fashions have been critically acclaimed, but hardly recognizable on everywoman—and perhaps that is part of their appeal. "I think she's very talented," said Sally Singer, the formidable fashion features director of Vogue, who has championed Ms. Fetherston ever since the latter lived in Paris, where she attended design school at the Parsons School of Design's sister campus. "She's part of a generation of quite talented and singular designers, in the sense that they have quite unique visions and they stick to them regardless of where trends are going."
During the most recent Fashion Week, Ms. Fetherston seemed to be everywhere—at Glamour's party for the charity Malaria No More, for which she designed a T-shirt; at British publisher Jefferson Hack's party at the Bowery Hotel—in sky-high heels and short dresses (always) of her own design, practically levitating. She stands 5-foot-10 and has excellent posture, and like the models in her shows, she often wears creative white headgear. The color of her hair blends with the color of her skin, all of it glittery and translucent. "You always know where she is in the room," said Sarah Easley, co-owner of Kirna Zabête in SoHo, the first Manhattan retailer to sell Ms. Fetherston's clothes. "She's like a living fairy."
Ms. Easley said that the draw of a Fetherston collection is not its timeliness but its timelessness. "It's not 2008 particularly, or 15 years ago, or 15 years forward," she said. "You can't really place it. It's sort of floating above. She really operates in a vacuum of what Erin likes. Kind of like how the most stylish people just dress for themselves—it's like Erin designing for Erin. And we like Erin."
A FRILL A MINUTE
Ms. Fetherston was born and raised in the Bay Area; she refused to say what her parents do for a living. She moved to Paris after graduating from Berkeley in 2002 with a degree in interdisciplinary studies. It was there that she met her fiancé, Hedi Ferjani, 32, an artist, with whom she recently began cohabiting in Tribeca (they will keep a pied-à-terre in Paris), at a brunch in someone's apartment. "It was a total, as they say in French, coup de foudre—lightning strikes, love at first sight," she said.
Likewise, the designer completed her studies in a brisk two years. "I just wanted to get in, absorb, and get going," she said. "I casually thought, 'I'm going to start making the clothes I've always dreamt of making, and we'll see what happens. I was working with lace, cutting pieces out, hand-painting them; I really went nuts."
With just one seamstress, Ms. Fetherston assembled a collection of 33 "looks" to show during the January 2005 Couture Week in Paris (albeit off-calendar; only eight houses are officially sanctioned as couture). This, she said, helped her escape a common Catch-22 facing young designers: "To be bought, you need to have some press. And to get some press, you need to be selling somewhere." In couture, a designer's retail viability is less a concern than "my vision, my aesthetic, and my name," as Ms. Fetherston put it, and soon enough, American Elle had tracked down her phone number. "I didn't totally pre-calculate it," she said. "But it all sort of worked out."
Next came ready-to-wear. "I was like, 'Let's really get those clothes out there in the world.'" Ms. Fetherston said. It helped that she had befriended fashion photographer Ellen von Unwerth, as well as the actress Kirsten Dunst, who was filming Marie Antoinette at the time. "I just sort of met her, no big story," the designer shrugged.
The three women decided to make a short film based on the collection. "We just wanted to create something beautiful," Ms. Fetherston said. "And it was sooooo fun."
Their movie, Wendybird, features a jubilant Ms. Dunst and several pretty young models frolicking around a lake full of birds, wearing frilly dresses they find hidden in a chest under a tree. Shot in black and white, set to slow versions of "Summertime" and "You Showed Me," it portrays a rapturous, otherworldly idea of femininity in which frills constitute a kind of freedom. "They're supposed to be clones," Ms. Fetherston said of the characters. "And when they find these clothes, it kind of breaks the spell on them."