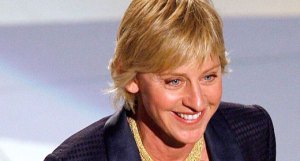 It's been a week since we last spoke with celebrity life coach Patrick Wanis, Ph.D., so we called him earlier today to ask him some of the more pressing questions celebrities are posing right now.
We started things off with Writers Guild Enemy No. 1, talk show host Ellen DeGeneres (who is also a W.G.A. member). She canceled plans to tape her show in New York next week after earning her union's disapproval for crossing the picket. Michael Winship, president of the W.G.A.'s East Coast branch, responded to the news by saying he was "delighted" Ms. DeGeneres would no longer be hitting Manhattan, where she was sure to face a fresh crop of protesters.
"Ellen's approach has always been to not just buck the trends, but to do what she feels is right and do what she believes is right," Mr. Wanis said. "What she doesn't realize, because she's not getting the right advice, is that her whole aura and image of being a fun, happy-go-lucky person goes out the door. If you're a happy-go-lucky person, don't go against the Guild that you're a member of!"
Instead, he said, Ms. DeGeneres should either terminate her W.G.A. membership and continue taping, or prove her solidarity with the striking members and refuse to write until a resolution's been made.
Mr. Wanis also touched on the apparent correlation between Ms. DeGeneres' strike-breaking and the whole Iggy fiasco. "Here she is fighting to make sure that the dog ends up in a loving home—the teenagers of the hairdresser or whoever they were—and she didn't scream immediately at the people who were making death threats at the dog agency [Mutts and Moms]. Sanctity of life goes for both canines and humans. And I'm all for animal rights; I don't wear furry or any of that stuff," he said.
"She's living like she's on an island where she forgets that there are consequences for her actions beyond just her own," Mr. Wanis said. "So what she's doing is being very sensitive to her own needs and insensitive to others'."
He also had some interesting things to say about yesterday's news that Lance Armstrong's six-year-old daughter brought Ashley Olsen to show-and-tell at her Texas school. (The idea was hardly novel to Mr. Armstrong, who reportedly went to ex-girlfriend Tory Burch's daughter's Upper East Side school as part of her show-and-tell.)
"They say that most girls bring a doll to show-and-tell—something that's close to them, something they play with—but to bring your dad's girlfriend, whose been in such a short-term relationship? So you ask yourself the motivation," he said. "It's about showing off and boasting. In that situation, I think it should be Lance Armstrong speaking to his daughters. To help them establish some priorities. Show-and-tell! What, are you bringing her in like a Barbie Doll?" He wondered aloud what Ms. Olsen could possibly have offered the young Armstrong girl's classmates. Mr. Wanis said that it's highly unlikely that the cyclist's daughter sees in Ms. Olsen whatever it is that Mr. Armstrong seems to adore.
"If Ashley and Lance were to continue in a relationship, and it were to become serious and they end up in a live-in relationship, how is Ashley going to be able to discipline and guide this girl? If Ashley says, 'You're grounded,' what is that little girl going to turn around and say to her one day? Ashley's not going to be in much of a position to be a mother, a nurturer or a guide to Lance's daughter," he said.