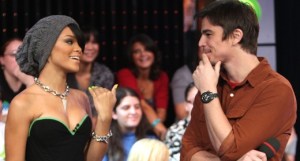 We checked in today with celebrity life coach Patrick Wanis, Ph.D., in order to hear his expert opinions on what Hollywood people should be doing with themselves right now.
Again this week in the romance department, rumors and announcements surrounding novel couplings have proven their power to flabbergast outsiders. Last time we checked in with Mr. Wanis, he offered a bleak outlook on the prospect of Lance Armstrong and Ashley Olsen finding true love together. But this week, after hearing confirmation of singer Rihanna and actor Josh Hartnett's relationship, Mr. Wanis was hopeful.
He said that he could sense that the 19-year-old R&B artist really likes her new flame for a couple of reasons. Aside from the respect Mr. Hartnett, 29, likely shows her, he maintains a desirable balance of qualities. "If you look at his face, he's got a strong facial structure, which says, 'I'm a leader; I'm tough; I'm strong.' But he also has a certain sensitivity in his eyes. And she'll be attracted to that. She likes him because he's sexy, he's hot, and also because he's very sweet and he treats her well. I think that's a better mix for now than some of the other ones."
Moreover, Mr. Wanis said that the pair's respective astrological signs will work well for them both in the bedroom and on the street. Mr. Hartnett is a Cancer on the very edge of Leo, which means, in his opinion, that he's very emotional and paternalistic. Rihanna, on the other hand, is a Pisces, meaning that she's happy, confident, optimistic and outgoing—if easily influenced and prone to telling a lot of white lies. "Even though he's very sexual, their lovemaking is going to be more about love than it is about primal sex or lust. I also think they look good together," he explained.
Sadly, Mr. Wanis was not so optimistic about Matthew Perry and Mandy Moore, who were recently spotted canoodling in public. "I feel like laughing again, because, with all due respect, Matthew Perry is pretty much two-dimensional, whereas Mandy Moore actually has some depth," he said. Ms. Moore, 23, appears to be totally healthy, sweet and grounded, but Mr. Wanis worries that Mr. Perry, 38, might still be struggling the substance abuse problems, which have twice sent him to the hospital. "She points, in fact, to one of the reasons she's a grounded celeb—that she doesn't go stupid like Britney and Paris and all the others—is because of her family background," he continued, "I'd personally be saying, 'Mandy, stay away from him,'" Mr. Wanis admitted, predicting that the pair were headed nowhere, fast.
And while we're on the topic of speedy relationships, the tabloids, celebrity blogs and gossip weeklies have been alight this week with chatter of Paul McCartney's steamy affair with Nancy Shevell, wife of power-attorney Bruce Blakeman. The two spent last weekend together in the Hamptons—where Mr. McCartney, 65, stopped by a luxe lingerie boutique before dropping in at the Long Island manse inhabited by Ms. Shevell, 47, who is the vice president at one of her husband's companies.
"He's making a big mistake," Mr. Wanis told us. While Ms. Shevell may be legally separated from her husband, that doesn't really matter. Our celebrity life coach always tells people to not get involved with someone who is in a relationship of any kind, because "separation does not mean that it's over. It means, I'm confused; I don't know what to do; I need some time apart so I can make up my mind." Later, he questioned the new couple's ethics. "Obviously it's more than just, 'Oh, I thought I'd say, 'Hi, how are you? I haven't seen you in a couple of months!' It's not just, 'We're old pals or buddies,'" Mr. Wanis continued, "In terms of morals it's wrong anyway, because it's obviously going further than just friends.
"McCartney has a lot of power, sometimes too much power, and it doesn't mean he's always using it in the right way," he added.
Mr. Wanis also sympathizes with Mr. McCartney's ex-wife, Heather Mills, who has "been given hell in the U.K. tabloids." In his opinion, Mr. McCartney's new affair has only served to further insult Ms. Mills. "It's really sad because this is a woman who put a lot of her heart, passion and energy into helping people," he said. Asked about recent reports that the former Beatle's daughter, the fashion designer Stella McCartney, has designed a necklace with a leg pendant (Ms. Mills is an amputee), Mr. Wanis had only one thing to say: "How tacky!"
Out of the frying pan and into the fire, George Clooney's physical feud with housewife dreamboat Fabio humors and disappoints Mr. Wanis, but it hardly surprises him. "George Clooney has always had a bad temper!" he said of the actor, who he thinks has always been in love with his own press. "What's funny is that Fabio and Clooney are both divas anyway," he mused, which can make them crave attention of any kind.
"The old adage is: There's no bad publicity—as long as people are talking about you, that's good. That's been the belief for a long, long time. The problem is that today, we've become more fascinated with the lifestyle of the celebrities versus their talent," Mr. Wanis told us. In the end, he thinks celebrities like Mr. Clooney and Mr. Fabio need to stop "all these stupid games" and start using their talent in better ways. "Clooney's giving the paparazzi what they want when he's having these stupid spats," he added of the star, who has famously gone head to head with aggressive shutterbugs.
Another well-known foe of the paparazzi, actor Heath Ledger, and his onetime lover, Michelle Williams, have reportedly made plans to design identical bedrooms in their homes for their young daughter, Matilda Rose. Apparently, the onetime couple thinks creating mirrored environments for her will make her feel less confused and hurt by her parents' split.
"That's stupid and I'll tell you why that's stupid. The security and the reassurance that their daughter has wont come from the physical surroundings, it'll come from the interaction, the dynamics from her parents," Mr. Wanis said. "What can be more disconcerting than to wake up in the same room and you look up and go, Where's mum? Oh, this is dad's place! Then you wake up in an identical room, Where's dad? Oh, mum's here! It's a stupid philosophy," he said with a laugh. "If they want to give the child a security blanket, don't put the same colored blanket around them."
Instead of more-or-less trying to trick Matilda into a sense of wellbeing, Mr. Wanis thinks they'd be better off showing each other respect in front of the child and perhaps finding an item like a doll or teddy bear that she can take with her to her parents' respective dwellings.
"Again, that's how celebrities get lost," he told the Daily Transom. "They have so much money that they're not thinking about how to use it. It's not even creative, it's stupid."