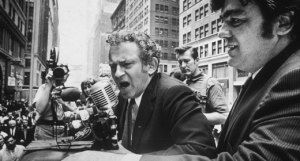 Norman Mailer was at Bobby Kennedy's wake in 1968 when he lit a woman's hair on fire with a candle.
It was an accident, but that didn't count for much when the woman's hair started to sizzle and Mailer and his friend Jimmy Breslin started pounding her over the head in an attempt to put out the flame.
"Hundreds of people were looking," Mr. Breslin said. "Looking at the two drunks beating up the poor woman. They were thinking, 'Look at them, the drunks. All the rumors are true.'"
Mr. Breslin, the legendary columnist and author, sounded exasperated as he told this story on Monday afternoon.
"People don't understand the fact that Norman was a lovely gentleman!" he shouted. "They think he was some crazed creature of the night! He wasn't. There wasn't that much of that stuff. The whole thing was sitting and writing."
Mailer was 84 when he died at Mt. Sinai Hospital on Saturday morning. Before that he lived a big, loud life, which he spent asking questions, accumulating bruises and setting all kinds of people's hair on fire.
In July 1963, he had a piece published in Esquire called "Some Children of the Goddess," in which he said exactly what he thought of his American contemporaries in the literary world. John Updike reminded him of "stale garlic," he wrote, and William Styron was a "fat spoiled rich boy." James Baldwin was trash and J.D. Salinger was, too. Mailer was better, was the basic idea. He was the champ. Fittingly, around this time, the illustrator David Levine did a drawing in which Mailer was dressed as a boxer, his little body in a crouch and his gloves at his face.
According to the journalist Gay Talese, one of Mailer's closest friends at the time of his death, Mailer was proud of this drawing, and he had Mr. Levine's original sketch mounted on cardboard. One day, Mailer packed the drawing carefully in tissue and brought it to New Jersey so he could show it to his friend, the Puerto Rican prizefighter José Torres. Mr. Torres had just finished working out and was lying in bed when Mailer walked into his room and handed him the drawing. A few people were in there talking, Mr. Talese among them.
"Look at this," Mailer said.
"Torres took this David Levine thing from Mailer and he looked at it and he said nothing," Mr. Talese said in an interview. "And then what he did, José Torres, he was holding it with both hands, and he looked at Mailer, and he starts to bend the goddamn thing … bending it back and forth and back and forth as if he's gonna snap it. And he's looking at Mailer, waiting for Mailer to say, 'Don't do that!'"
Mailer looked stunned but he stared intently back, according to Mr. Talese, as Mr. Torres searched his face for fear: "He was toying with him, looking for some sign of Mailer's trepidation. … It looked to me as though Mailer didn't know what to do. This wasn't Gore Vidal! He was really facing down a fighter."
It was funny, Mr. Talese said, to see the fearsome, fearless Norman Mailer so dumbstruck in the presence of true might. And so it was a relief for everyone when Mr. Torres broke the gaze, flashed his friend a broad smile and handed him his drawing back.
That's how a lot of Mailer stories seem to go: open with blood lust, peak somewhere in the neighborhood of confrontation and end tenderly with a giggle or a wink.
Mr. Talese has another story like that. This one takes place in early fall 1962, when he and Mailer were both in Chicago to cover the historic Sonny Liston vs. Floyd Patterson fight at Comiskey Park.
The night before the big match, Mailer participated in a debate against National Review editor William F. Buckley, an event billed as a showdown between "a conservative and a hipster" about the nature of the right in America. Thousands of people came to watch, and Mr. Talese wrote an article about it for The New York Times.
In his piece, Mr. Talese called the Mailer-Buckley face-off a draw, and he didn't think much of it after he filed his report.
The following evening, Mr. Talese was sitting in a hotel talking to some sportswriters over drinks. He saw Mailer walking toward him from across the room.
"He's looking at me and he's getting closer and closer and he's not smiling," Mr. Talese recalled. "And he's just looking at me, staring at me. And then he comes over and says, 'What the fuck do you mean, "draw"? I looked at his face and thought, This guy is serious!"
That was when Mr. Talese, who was wearing a tan summer suit made of either gabardine or silk—he doesn't remember which—noticed that Mailer was carrying a drink, from the looks of it some kind of whiskey or bourbon. Mr. Talese knew as soon as he saw it that this drink would end up on his clothes if he did not do something immediately to defuse the situation.
"I remember thinking, I'm in trouble here. Because if he throws a drink at me, first of all my suit's going to be ruined with this bastard; second of all, it's going to be a scene," Mr. Talese said. "I looked at him and I felt suddenly that I had to stop that drink from coming at me. … I just felt like, I can't let this happen—it's going to be humiliating for me. Here's this lunatic writer, this brilliant fuckup of a guy, this kamikaze, this loose cannon called Norman Mailer, and I looked at him as though I was fucking Don Corleone … and I just said, 'Norman Mailer, do not throw that drink at me.'"